Durham University plans tuition fees of £9,000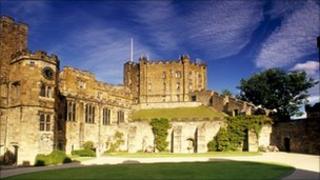 Durham University has said it intends to raise tuition fees to the highest level of £9,000 per year from 2012.
It says it will announce scholarships and bursaries later in the spring to help widen its intake.
It follows Oxford, Cambridge, Imperial College and Exeter in setting the maximum fee under the new regime.
The government has warned that, if too many universities charge £9,000, it may have to cut teaching grants further to cover the cost of student loans.
Professor Chris Higgins, Durham University's vice-chancellor, said a Durham student experience had "life-long rewards" and that the university's graduates were amongst the most sought after by employers.
"With our plans for a generous and flexible programme of financial support, we aim to ensure that affordability will not be a barrier to Durham attracting the best and brightest students," he said.
Durham Students' Union president Sam Roseveare said: "Competition for places at Durham in several subjects is the highest in the UK and a Durham degree is worth the investment."
"We will now be looking to the university to fulfil its commitment to providing the further enhancements to student services and facilities that will now be possible," he added.
The government's decision to allow universities to raise tuition fees sparked major street protests last year, with critics arguing that students from disadvantaged backgrounds would be put off.
Funding pressure
The government, which raised the fee limit to £9,000, has warned that universities should not all seek to charge the maximum - as the funding for student finance is based on an average fees level of £7,500.
Universities Minister David Willetts initially said universities would only be allowed to charge higher level fees in "exceptional circumstances".
But many experts say the majority of universities are likely to opt for the higher end of the range.
This would mean higher spending for the government as it shoulders the cost of subsidised student loans, which are paid off after graduation.
Labour's universities spokesman, Gareth Thomas, says that if universities on average charge above this level it will mean the government will need to claw back even more from university budgets.
Mr Thomas says that, if fees average £8,000, it will mean a shortfall of £251m.
If every university charged the £9,000 maximum, it would mean this shortfall would reach £777m, he said.