Economists call for rethink of EMA study grant cut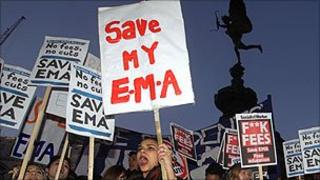 A group of economists, including former Cabinet Office and Bank of England figures, have urged the government to reverse cuts to Education Maintenance Allowances for low-income students.
The government quotes research saying that 90% of 16-19 year olds who receive the allowance of up to £30 a week, would continue in education without it.
But the economists said ministers had ignored "rigorous" evidence.
The government says the scheme is hugely expensive and poorly targeted.
Writing in a letter to The Guardian, the nine economists warned that, at a time of "unacceptable" youth unemployment, "the last thing our country and those who govern us should be doing is removing or cutting support to that very age group".
The signatories include former Cabinet Office chief economist Jonathan Portes and Professor David Blanchflower, a former member of the Bank of England's interest rate-setting monetary policy committee.
They urged the Chancellor to use next week's Budget to reconsider the cuts, saying abolishing the Education Maintenance Allowance (EMA) was "not a recipe for long-term growth".
The economists rejected the government's claim that the policy has a high "deadweight" cost - arguing that the EMA raises results and has wider benefits to society that have not been taken into account.
They pointed to research by the Institute for Fiscal Studies which says the benefits of EMAs outweigh the costs.
Even if it is true that 90% of EMA recipients would stay in education without it, this "is not a sound economic argument for abolishing EMA", the economists write.
"It could equally be argued that the government should not vaccinate children against meningitis or polio, since the vast majority of children wouldn't contract these diseases anyway," they says.
EMAs were introduced by Labour to encourage young people from deprived backgrounds to stay in education and training after the age of 16.
Students whose parents' earnings fall below certain thresholds receive payments of £10, £20 or £30 a week.
Wales and Scotland also have the payment, which is under review in Northern Ireland.
The allowance can be spent however the student chooses, but are intended to cover the cost of course equipment, books and transport.
Campaigners say many students will drop out of courses, and others will not be able to afford to start them, if the allowance is cut as planned.
But the government says the £560m scheme is wasteful, with administration costs £36m, and should be targeted better towards pupils who need it most.
The Department for Education says it now plans to support the most needy students through a discretionary fund administered by colleges, which it says it hopes to "significantly increase" from its current level of £26m.
The government also points out that local authorities have a statutory obligation to make sure that transport is not a barrier to students' education.
A spokesman for the department also said that 96% of 16 year olds and 94% of 17 year olds participate in education, employment or training, and the government is aiming for full participation up to the age of 18 by 2015.