Assange claims Wikileaks boosted Mid East uprisings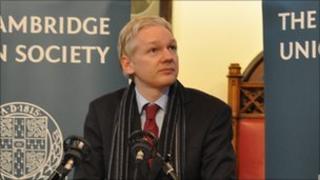 Diplomatic cables released by Wikileaks website played a role in the falls of the Egyptian and Tunisian regimes, the site's founder Julian Assange has told Cambridge students.
They showed the US would back Tunisia's military over its now ousted president, and made it hard for the US to support a key Egyptian regime figure, he said.
Mr Assange was speaking at the Cambridge Union Society.
He is appealing against a ruling that he should be extradited to Sweden.
Mr Assange, 39, denies three allegations of sexual assault and one of rape last August in Stockholm.
"The Tunisian cables showed clearly that if it came down to it, the US, if it came down to a fight between the military on the one hand, and [President Zine al-Abidine] Ben Ali's political regime on the other, the US would probably support the military," he said, according to Reuters news agency.
"That is something that must have also caused neighbouring countries to Tunisia some thought. That is that if they militarily intervened, they may not be on the same side as the United States," Mr Assange said.
He also said that as a result of US cables released about Egyptian intelligence chief Omar Suleiman, the US was not able to back him as a successor to former President Hosni Mubarak.
Mr Mubarak appointed Mr Suleiman as his vice-president as protests mounted against his regime, eventually forcing him from office on 11 February.
Long queues
However, Mr Assange also said the internet was was the "greatest spying machine the world has ever seen".
"There was actually a Facebook revolt in Cairo three or four years ago," the French news agency AFP quoted Mr Assange as saying.
"It was very small. After it, Facebook was used to round up all the principal participants and they were then beaten, interrogated and incarcerated.
"So while the internet has in some ways an ability to let us know to an unprecedented level what government is doing... it is also the greatest spying machine the world has ever seen," he said.
"It is not a technology that favours freedom of speech," he said.
"It is not a technology that favours human rights. Rather it is a technology that can be used to set up a totalitarian spying regime, the likes of which we have never seen."
Some 800 students attended the speech, despite long queues to get in.
The appearance by the whistleblowing website's founder was hosted by the Cambridge Union Society, a debating and free speech society linked to Cambridge University.
Magistrates ruled in February that Mr Assange should be extradited but he has lodged an appeal and remains on bail.
One of his bail conditions is that Mr Assange, 39, lives at Ellingham Hall - a 10-bedroom property set on 600 acres of land near Bungay on the Norfolk-Suffolk border.
He believes the sexual assault claims are politically motivated because of Wikileaks' publication of sensitive material - including the leaked US diplomatic cables - from governments and high-profile organisations that has made headlines worldwide.