Truancy warning over education welfare cuts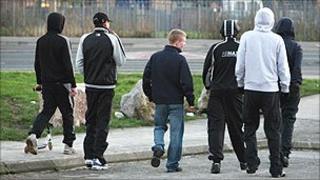 There are warnings that cuts to education welfare services in England's local authorities could undermine efforts to prevent truancy.
The Association for Education Welfare Managers says local authorities are making short-term savings which will have damaging long-term consequences.
It says a survey of members shows widespread staffing cuts.
Councils are working hard to prevent truancy, within tough financial limits, says the Local Government Association.
Century old
"Councils continue to be committed to reducing truancy and ensuring children get the most out of their education but that must be set against a backdrop of a severe squeeze on their finances," said an LGA spokesperson.
Education welfare services are intended to provide an early intervention when there are problems with school attendance - such as going around to the homes of children playing truant.
Some of these services have been running for more than a century.
But their representatives are warning that their services are being threatened in local authority spending cuts.
They argue that youth crime and anti-social behaviour will increase if truancy is not tackled.
The Association for Education Welfare Managers has carried out a survey of how spending cuts are affecting its members.
It says that out of 49 authorities, there have been staff cuts or will be cuts in 28 authorities. In 13 authorities, cuts are between 50% and 100% of staffing.
The numbers of staff in education welfare services can range from only a few people to more than 50.
'Underclass'
Jennie Clark, the association's president, is warning that the short-term savings in budget cuts could prove more expensive in the long term if more pupils drop out of school.
She says that once pupils drop out of the school system they are at risk of joining an "underclass failing to make any contribution to society and often becoming a huge drain on the tax payer".
And she calls for a recognition of the importance of attendance in improving schools.
"There appears to be a lack of understanding that without children attending school regularly, the quality of teaching is immaterial."
The National Association of Social Workers in Education echoes this concern.
The association's president, Guy Halley, said: "It is very concerning to see so many education welfare services are facing stringent cuts or worse.
"Schools have historically valued very highly the work of education welfare officers, who can be both 'eyes and ears' and also have an understanding of the legal aspects of school attendance."
Education welfare services have roots that reach back to the introduction of compulsory school attendance in the 19th Century.
They are successors to the Victorian school board officers who made sure that street children were brought into school.
Pre-dating the arrival of social workers, these have often been the oldest welfare services within councils.
Stubborn problem
Strategic Manager for Education Welfare and School Safeguarding at Kingston Council, Ming Zhang, says the current reductions in services are "short sighted".
"This is a front-line service, working with families in desperate need of help," says Dr Zhang, who has carried out research into truancy.
"The historical evidence shows that education welfare services work - they prevent a worse problem at a later stage.
"It's preventative work, so you can't see the loss. It might be five or 10 years before it shows."
He also regrets that after providing a service for more than a century, that some local services will be disappearing in this generation.
But the Local Government Association says that families also have take responsibility - and cuts in services have to seen in the context of their financial pressures.
"Councils take the problem of truancy extremely seriously and do all they can to keep children in school. However, they are only one part of the solution. Parents and schools also have a responsibility to make sure children attend lessons and get the best possible education they can," said an LGA spokesperson.
"Local authorities have recently been handed the toughest financial settlement in living memory and many are seeing huge cuts to their budgets. In the face of such financial challenges many are having to take tough decisions about the services they provide."
There has been a longstanding difficulty in reducing truancy - with only limited signs of success.
The previous government ran a major campaign to cut truancy - setting targets which were not achieved.
In a crackdown against truancy, parents of persistent truants faced jail and thousands of parents were fined.
There were changes in how truancy levels were measured - and an emphasis on counting attendance rather than absence - but the truancy rate rose to another record level last March.
The Department for Education says that it is "down to local authorities to meet the needs of their local community" - and that it is not responsible for the funding of education welfare services.
But a spokesman says that improving the curriculum and making sure that children have the basic skills will help to reduce some of the reasons that children miss school.