Money driving many schools to become academies - survey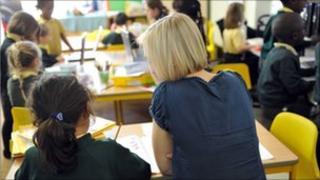 Many secondary schools in England are opting to become academies for financial reasons, a survey suggests.
A poll of 1,471 heads by the Association of School and College Leaders (ASCL) found nearly half (46%) had converted to academy status or intended to do so.
Nearly three-quarters of these were driven by the belief that it would help the school financially.
The ASCL said heads were also attracted by the idea of of greater freedom.
This and dissatisfaction with local authorities were also given as reasons for wanting to become academies.
In total, just over a third (34%) of those who took part in the survey were undecided about becoming an academy and 19% had no plans to convert.
Just over half of those said there was not enough to gain from academy status and 40% were concerned about the effect on other schools locally.
Academies are publicly-funded schools which operate outside of local authority control.
Under the previous government, academies were used to turn around failing secondary schools in challenging areas.
Now the coalition government wants all schools - primary and secondary - to apply for academy status, which they can do if they are rated as "outstanding" by inspectors from the schools' watchdog, Ofsted.
These schools receive their budget directly from central government and so do not lose a proportion to the local authority (for services they provide) and have a greater degree of control over their finances.
'No option'
Head teachers who had converted or were converting to academy status told the ASCL survey that money was a factor in their decision, as schools faced a budget squeeze.
"With cuts to central budgets, there is really no option for us but to become an academy to protect jobs and resources," one head said.
"I feel that I have been forced into this decision because of the financial benefits of moving sooner rather than later," said another.
Other head teachers said it was becoming increasing difficult not to opt for academy status.
One head replied: "Whilst we have no wish to become an academy, the number of schools which are likely to convert in our local authority within the foreseeable future will make our conversion almost inevitable."
"There will come a tipping point at which it becomes unviable to remain out of the academy system. There are no freedoms available to academies that I don't believe I already have," said another.
ASCL general secretary Brian Lightman said: "The Department for Education has said in its documentation that there should be no financial incentive or disincentive for becoming an academy, but this is certainly not the message that is getting to schools.
"It is very clear that early converters have gained financially and therefore will be able to protect their budgets in ways which other schools have not.
"Although they know that this funding bonus will not be sustainable, they see it as a way of cushioning their schools from the cuts of the next few years."