Special school's view: Getting the system right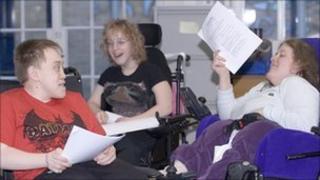 This week's government proposals on special educational needs call for a simpler, less adversarial system to help parents secure support for their children. Education specialist Mike Baker hears one special school's reaction to the proposals.
To understand the significance of getting it right on special needs education - particularly for children requiring the most intense support - you need only spend a day at Treloar's school and college in Hampshire.
Providing for young people with cerebral palsy, spina bifida and muscular dystrophy, this independent residential institution offers highly specialist - but inevitably expensive - provision.
For the children who come here, Treloar's is usually a life-changing experience.
But because the costs are so high, and the procedures are often so bureaucratic and complex, it's not always a smooth process.
Like many specialist providers, Treloar's is an independent charity funded from the fees paid by the state, as part of pupils' special needs statements.
Graham Jowett, a former principal of Treloar College, who now acts as its consultant, believes the government's Green Paper published this week shows the government is "moving broadly in the right direction".
'Bureaucratic and bewildering'
Treloar's has welcomed the Green Paper's view that the process of assessing children's special needs is too "bureaucratic, bewildering and adversarial".
The document proposes replacing the current system of statements - documents detailing what help a child requires - with new "Education, Health and Care Plans".
Mr Jowett says the students who come to Treloar's need intensive provision including, for many, full-time residential accommodation.
That makes this sort of special needs provision "very expensive", he says, with the result that some local authorities "view us with suspicion" and families are often "at loggerheads" with the authorities over the cost.
Treloar School educates about 80 children aged nine to 16, while the adjoining Treloar College accommodates 167 students aged 16+.
About 90% of students at the college are in wheelchairs, which they steer around visitors with great speed and adroitness.
An impressive workshop provides a "pit-stop" for repairs to wheelchairs that have been driven too hard or which need to be ingeniously customised to students' needs.
In the residential accommodation, the bedrooms are equipped with hoists and other specialist equipment designed to allow students to be as independent as possible.
Students' needs vary, but fees can run to tens of thousands of pounds a year.
Inclusion debate
For Treloar's, one of the frustrations of the current system is that many students arrive with statements of special needs that were made when the children were much younger.
This means the statements may either over-estimate or under-estimate a student's needs.
The Green Paper recognises the problem, stipulating that the proposed new care plans should be "regularly reviewed to reflect changing needs".
The government is also seeking to link up different agencies better, acknowledging that families often have to "negotiate different elements of a child's support separately".
It is an issue that Mr Jowett also points to, saying statements often tend to look only at children's educational needs while failing to take account of therapeutic and holistic needs.
But he is less certain about the Green Paper's proposal that by 2014, parents will have a legal right to manage the funding for the support their children need.
Not all parents will want to take this up, he says, as experience shows many are "daunted by managing their own educational finances".
Mr Jowett is, however, delighted that the Green Paper promises to end the "bias towards inclusion".
Much of the debate over special needs has been over the policy of inclusion, which involves attempting to keep children in mainstream school wherever possible.
Its proponents believe it equips children with special needs better for mainstream society and helps improve their integration into it - also building understanding among the children who learn alongside them.
But special needs vary widely and there have been concerns over whether the policy is pushing some children into difficult environments where mainstream teachers are not able to provide effective support.
"The constant message is that inclusion is better, even though 80% of disabled children report being bullied in mainstream school - our pupils say how good it is to be in the same boat as others around them," says Mr Jowett.
One former student told him: "It's great to be in a place where you don't have to explain your disability, or have a grown-up everyone thinks is your mum following you around carrying your laptop."
Costs pressure
But as a non-mainstream provider, is Treloar's simply defending its own interests by opposing inclusion?
Amanda Quincey, principal of Treloar College, insists that "where students do not need our services we are honest and don't offer a placement" because they could stay in mainstream schools with the right support.
However, she says the real tensions arise because of the current assessment and funding system.
"The people we are dealing with are under pressure to reduce costs and are asking us to reduce what we do," she says.
And concerns over funding are shared by local authorities.
While the Local Government Association says some councils have "made great strides" in improving provision, it too stresses that the government must ensure "sufficient funding" for future special educational needs provision in a climate of cuts.
The government says it plans to commit more money, but has not yet given details.
Mr Jowett too is worried about "whether the funding will be there" for the changes.
And the future of the system, he says, is particularly important because advances in medical care mean that the number of children with very complex special needs, like those at Treloar's, is increasing.
Mike Baker is a freelance journalist specialising in education.