Universities face strike action over staff pensions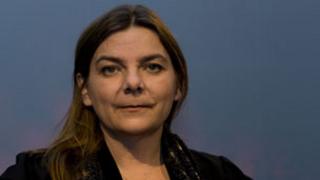 More than 60 UK universities are facing strike action later this month in a dispute over staff pensions.
The University and College Union announced a series of strike dates across the UK, after it said lecturers had backed the action in a ballot.
UCU members are angry at planned changes to a pension scheme for staff mainly in the pre-1992 universities.
University employers dispute whether the union has a mandate for the strikes.
The university Employers Pension Forum added that negotiations had been ongoing for nearly three years.
But the union predicted more than a million students could be affected by the walkouts if the dispute is not resolved.
'Widespread disruptions'
The UCU balloted its members in 67 universities over the pension changes last week and it said members in 63 universities had backed the strikes.
It said overall two-thirds (some 64.5%) of members who voted backed strike action, while four-fifths voted for action short of a strike.
But the university Employers Pension Forum claimed only 8% of the total academic staff voted for strike action, with just 10% backing action short of a strike.
Following the result of the ballot last week, UCU general secretary Sally Hunt wrote to the Employers Pension Forum to request urgent talks through arbitration services, Acas.
She said: "Strike action is always a last resort and I am ready and willing to clear my diary to meet the employers through Acas immediately.
"We can avoid widespread disruptions on campus, but both sides must be prepared to go that extra mile and move quickly. The ball is in the employers' court and we are still waiting for their response."
'Damage students'
She added that she was hopeful that action could be avoided.
The strikes are due to take place in Scotland on Thursday, 17 March, in Wales on Friday, 18 March, in Northern Ireland on Monday, 21 March and in England on Tuesday, 22 March. A second day of strike action is planned in universities across the UK on Thursday, 24 March.
A spokesman for the Employers Pension Forum said: "The UCU's figures show a low turnout and point to some 50,000 UCU members recognising that pursuing industrial action is not the answer to dealing with the very serious challenges we all face in the sector.
"There is much uncertainty at present and this course of action will only damage students, institutions and the sector as a whole."
He added that the changes to the pension scheme had been under discussion for almost three years and were approved by a joint negotiating committee, in which the UCU is involved, in July 2010.