GCHQ staff teach 'future spies' in schools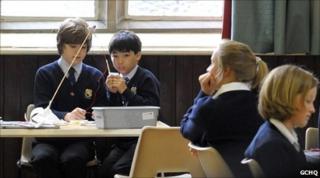 Schoolchildren as young as 12 are being introduced to the secret world of intelligence gathering in a programme run by the Government Communications Headquarters (GCHQ) across the UK.
"Privyet," says Anna, as pupils at Chosen Hill comprehensive school near Cheltenham file into a classroom in the language department.
"Sevodnia, ou nas peetnadtsat minut," she continues.
"Today we have 15 minutes to get you hooked into your Russki urok - into your Russian lesson."
Anna, whose full name cannot be revealed, is no ordinary teacher.
She is a Russian specialist from the GCHQ in Cheltenham, which intercepts electronic communications from around the world.
It has more than 70 "ambassadors" who visit schools and festivals to promote the study of languages, science and technology, but they also "plant the seed" in the minds of pupils that they could have a good career working for what is the third intelligence agency after MI5 and MI6.
Anna's goal is to convince the class that learning the tougher and more unusual languages like Russian, Arabic and Mandarin is not only possible, it is also fun.
She promises that by the end of the 15-minute "taster session", the pupils will be able to speak some basic Russian phrases, enough for them to get around central Moscow.
"Vot kino!" they repeat after her, as the lesson draws to an end, "there's the cinema!"
Chosen Hill School has a strong language department and the pupils are quick to decipher the Russian alphabet and pick up some basic words.
Scott Major, who is 18 and who will soon take his A-levels, says the language tasters he has attended have convinced him to apply to study Arabic and Mandarin at Leeds University.
And after university, he is keen to work for GCHQ.
"It's one of the main careers where you can use language skills intensively every day," he says.
"I think it's good because you can get the impression that you are really making a difference… language skills can help defend the country."
GCHQ is the single largest employer of linguists within the government and every day they analyse intercepted messages in a vast number of languages from around the world.
One of GCHQ's current concerns is that the pool of talented linguists in Britain is shrinking as studying languages becomes less and less popular with school children.
"We are not getting people through the door with the skills we need," says Chris, from GCHQ's language department.
"We are looking for people with top end language skills… we are not finding as many as we were finding at the beginning of the 2000s.
"Since then there has been a marked decline."
He lays the blame for this on the previous government which decided in 2003 to make the study of languages voluntary from the age of 14.
His concern about the level of language training in Britain is shared by senior teachers at Chosen Hill school.
"We see in the surrounding area some schools where languages have virtually disappeared from key stage 4 (between the ages of 14 and 16)," says Gordon Rae, the head of languages.
"Where there are classes that are so small that the school is struggling to consider them viable."
It is this decline which prompted GCHQ to start visiting schools to promote languages and also science and technology.
Aspiring code-breakers and fighters of cyber-crime are given plenty of encouragement to develop their skills by the teams of GCHQ ambassadors who get involved in after-school science clubs.
At Chosen Hill School there is much excitement about experiments set up by GCHQ specialists to send and receive secret messages and to intercept communications.
"It gave us more of an understanding of what they do at GCHQ," says one pupil, "because we weren't really sure, we just knew they dealt with the bad guys."
Several pupils now want to become part of the secret world of intelligence gathering.
"This has really made me want to get involved in it," says 15-year-old James Shaw.
"I've wanted to do stuff like this for a long time and it has helped me get an insight in to what I would be doing if I went down that career path.
"It's kind of odd and mysterious and it's got a mythical status especially in the local area."
Hear Richard Galpin's full report on BBC Radio 4's PM programme, weekdays at 1700 GMT. Or listen again on BBC iPlayer.