1970s and 1980s 'were the best time to raise children'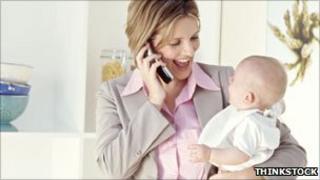 Nearly half of mothers think the 1970s and 1980s were an easier age for raising children, a report suggests.
Although 68% of mothers work full or part-time today, they are twice as likely to be involved in childcare as fathers, according to the report.
But the Changing Face of Motherhood report suggests nine out of 10 mothers feel guilty about how much time they spend with their children.
Over a third think they have less time for themselves than their mothers did.
The research carried out by the Social Issues Research Centre (SIRC) and published on international Women's Day, based its findings on focus groups with mothers and grandmothers and a survey of 1,000 mothers.
It also considered statistics from the 1930s to the present day.
'Me time'
In 1971, less than a quarter of mothers (some 23%) worked, compared with more than two-thirds today.
Nonetheless the study found nearly half of mothers think they spend more time with their children than their mothers did with them.
Some 32% of mothers today say they spend over 28 hours active time a week with their children.
And yet the survey suggests 88% of mums feel some guilt about about their work life balance and how much time they have to give to their children.
According to the report, commissioned by Procter and Gamble, the 1930s and 1940s were seen as the worst decades for being a mother, with the 1970s and 1980s seen as the best.
It said: "In the 1960s women did three quarters of all housework, including childcare, averaging 18.5 hours per week.
"Data for the 1970s and 1980s are unclear but the hours spent on housework, including childcare, rose by 24% between 1974 and 1987.
"The contributions made by men during the 1970s/1980s doubled, but were still well below those of mothers."
Some 72% of mothers who felt they had more "me-time" than their own mothers put it down to labour-saving devices, while 59% attributed the extra time to partners helping with the housework.
The report also highlighted the huge value today's young mothers place on their own mothers.
Close to mother
Grandmothers are seen as the most valuable support for mothers after a birth, pushing fathers into second place. Mothers-in-law are also seen as valuable sources of help.
A fifth of mothers say living closer to their mother is the single thing that would improve their quality of life as a mother.
But the report also found mothers relied on support networks for help in bringing up their children, with some 68% using technology such as social networks, Skype and texting to communicate with them.
Kate Fox, co-director of the SIRC and author of Watching the English, said: "Bearing in mind the increasing pressure on mums to work a double shift as the perfect mother balanced alongside her daily office hours, support networks are of more significance than ever."