University courses 'may close' if student visas cut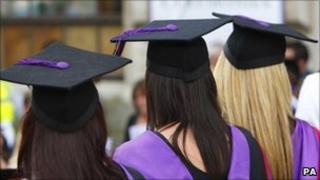 Several universities have warned they may be forced to close science and engineering courses if the government limits visas for foreign students.
Sixteen university vice-chancellors have written a joint letter to The Observer saying the plans would have a profound effect on university income.
They want Home Secretary Theresa May to drop a proposal to restrict visas.
She wants to raise the English language requirement and make it harder for people to come to the UK.
The coalition government has committed itself to reducing net migration from 196,000 to the "tens of thousands" by 2015.
Mrs May's proposals would affect non-EU students applying for visas under what is known as tier four of the points-based system.
They account for two-thirds of the 273,000 visas issued to students in 2009.
'Profound concern'
But in the letter to the Observer the vice-chancellors expressed their "profound concern" at the proposals, which they said would affect damage universities' incomes.
They said: "International students coming to universities contribute over £5bn each year to the UK economy through tuition fees and off-campus expenditure.
"Reductions in student numbers will lead to reductions in income and jobs.
"Without international students, many university courses, particularly science and engineering courses, may no longer be viable. This will in turn reduce the courses available to UK students.
"International students bring extensive cultural and political benefits to the UK. When they return to their countries at the end of their studies, they become cultural and economic ambassadors for the UK.
"At a time of financial austerity, this issue is of immeasurable importance to the UK."
A Home Office spokeswoman said: "Any criticism can only be based on speculation as no decisions have yet been made on the changes to the student visa route.
"However, universities that are confident in the product they have to offer genuine students should have nothing to fear from policies that root out abuses in the student visa system."