London School of Economics to give Gaddafi money away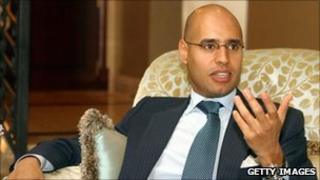 The London School of Economics is to give away funds received from a foundation linked to Libyan leader, Col Muammar Gaddafi.
The Gaddafi International Charity and Development Foundation had promised £1.5m to the London university - of which £300,000 had been received.
The LSE will hand over this amount in scholarships to North African students.
Students at the LSE had protested about the university's retention of funds linked to Col Gaddafi.
The Gaddafi regime has lost control of much of Libya as a result of a widespread revolt against its rule and hundreds of people are thought to have died in the unrest.
The LSE has been caught up in controversy surrounding funding from Libya - with student protesters staging an occupation.
Students argued that the university should not accept funding from a regime accused of breaching human rights.
Plagiarism probe
The university's council has now agreed that £300,000, representing the amount received from the Gaddafi charity, will now be given as scholarships.
A statement from the university says it "regrets the damaging impact of this episode on the school's reputation".
Col Gaddafi's son, Saif al-Islam, studied at the LSE, gaining both a Master of Science and a doctorate.
The university says it is investigating claims of "plagiarism and ghost-writing" over Saif al-Islam's PhD thesis.
Saif al-Islam wrote his doctoral dissertation on the role of civil society in the democratisation of global governance institutions.
The funding from the Gaddafi International Charity and Development Foundation for its North Africa Programme had been pledged in 2009.
The university's council says it "acknowledged that there were risks inherent in engaging with problems in society and in countries in conflict, but this was and should remain one of the school's roles".