One in three London pupils miss first school preference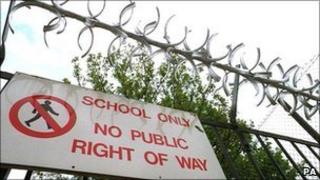 A third of families in London did not get their first choice secondary school for this autumn, statistics show.
Figures from the Pan London Admissions Board (PLAB) show just 65% of families got a place at their preferred school.
More than half a million children across England are finding out which secondary school they had been allocated a place.
About half received the news electronically on Tuesday, while the rest await letters in the post.
From a sample of authorities across England which have published figures, 16.8% of children were turned away from their first choice - a number similar to the previous year.
London figures
The PLAB showed 87% of pupils in London were offered a place at one of their top three of six schools listed.
But 35% did not get their first choice. This is similar to last year's figure, where 34.3% of pupils in the capital did not get their first choice.
Chair of the board, Chris Kiernan, said: "For the seventh year running, London's co-ordinated admissions system has been very successful in enabling more parents to be allocated a school of their preference by a fairer distribution of available offers.
"More than 93% of pupils have an offer from a school of their preference and 65% have been offered a place at their first choice school.
"It is important to emphasise that, however proficient the admission system is - and our arrangements in London are about as efficient and fair as it is possible to have - it cannot create additional places at the most popular schools."
Wide variations
Elsewhere in England, early figures suggest a rise in children getting their first choice.
Full statistics on the fates of the 540,000 pupils who applied this year will not be available until mid-March.
But of 23 local authorities which have provided figures, 17 had seen an increase in the percentage of applicants accepted at their first choice.
The figures show variation across England, ranging from just 60% getting their first choice in Westminster, and 61% in Southend-on-Sea, to 98% in Leicestershire and 96% in Derbyshire and Norfolk.
Those with the biggest increases on last year were Manchester (83%, up from 78.2%), Newcastle (90%, up from 85.3%) and East Sussex (93.9%, up from 89.3%).
Last year one in six - nearly 89,000 children - did not get their first choice, and 18,000 did not get a place at any of their preferred schools.
'Stressful day'
School admissions are highly competitive in some areas.
Apart from grammar schools, schools are not allowed to select on ability, except for some schools with subject specialisms, which can prioritise up to 10% of their intake on aptitude for the given specialism.
Admissions policies vary between schools and areas, although the closeness of a child's home, and whether they have a sibling already at the school, are often factors.
Some parents buy homes in catchment areas near popular schools, or join churches to boost their chances of admission to heavily subscribed faith schools.
Schools Minister Nick Gibb said: "This is a stressful day for families as they wait to hear which school their child will attend, because the sad fact is there are not enough good schools delivering the academic standards demanded by parents."
He said the government's academies and free schools programmes, as well as reforms on discipline and a push to boost the study of languages, sciences, geography and history all aimed to give parents "more genuine choice of a good school".
Siobhan Freegard, co-founder of the Netmums website, said: "Waiting to see if your child has been admitted to their preferred secondary school is a very stressful time for parents, with many having been preparing for this day for a number of years.
"At present, the system tends to favour middle-class parents who have the time and the knowledge to research the schools in their area and, in some cases, can even afford to move to a better catchment area. This disadvantages parents who can't play the system," she said.
Admissions Code
The government says it is planning to simplify the Admissions Code - the rules on how schools can and cannot allocate places - so that it is easier for schools and parents to understand.
It is also ending the requirement, which it says is "bureaucratic", for local authorities to establish admissions forums - local bodies which scrutinise admissions policies and practices.
However, the NASUWT teachers' union warned that this risked "watering down" the rules.
Deputy general secretary Patrick Roach said the move, together with changes to the role of the schools' adjudicator, who oversees admissions appeals, amounted to the removal of checks and balances from the system.
He warned the move could "undermine fair selection" and "allow some schools to return to the practice of covert selection".
The government's claim to be increasing choice was "arrant nonsense," Mr Roach said, "it won't create more choice for parents, it will create more choice for schools".
A spokesman for the Department for Education said the adjudicator's powers were not being eroded.
"Parents will still be able to make complaints about any aspect of school admissions that they feel are unfair and the adjudicator will still have to investigate those complaints.
"In addition, the adjudicator is being given more power through his new role in considering Academy admissions as well as those for maintained schools."
In Scotland, school places are primarily determined by the catchment area in which a child lives, although parents can request a different school.
There is no specific date on which families receive details of their school places.
In Northern Ireland, parents and children will find out about their school places via letters posted on 27 May.
Although the 11+ exam, previously used to select students on the basis of ability for grammar schools - was dropped last year, many schools still run their own tests.
In Wales, parents give their preferred schools in order of preference. These preferences must be submitted by a deadline chosen by the local authority.