Library users 'become better readers'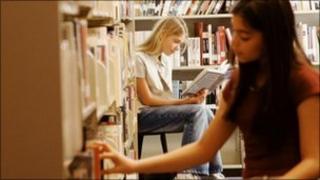 Children who use their local public library are twice as likely to be above average readers, a report has said.
A survey of 17,000 children in Great Britain for the National Literacy Trust found they were also twice as likely to read outside class daily.
Those reading below the expected level for their age were twice as likely not to use their local libraries, it said.
Public libraries do not disproportionately attract children from poor or rich homes, it added.
The research is published as communities across England campaign to save their local libraries from budget cuts.
It was based on a survey carried out online through teachers in 112 schools in England, Scotland and Wales with 17,000 eight- to 16-year-old pupils.
'Family role'
It found that just under half (44%) of the children surveyed used their public library.
Those that did not go were more than three times more likely not to read outside class and to rate themselves as not very good readers.
The most common reason for children not to go to their public library was that their family did not go.
The report said: "Family engagement is well understood as a key element in supporting educational achievement, and it seems that public library use, as well as being associated with similar positive child outcomes to school library use, has in addition a particularly specialised correlation with family support for reading.
"Young people who use their public library are twice as likely to say that they talk with their family about what they are reading at least once a week and report that they get significantly more encouragement from their parents in reading generally."
'Supporting literacy'
The study said that although the link between good reading standards and library use was not necessarily causal, public libraries have a role in the reading patterns of pupils.
Director of the National Literacy Trust Jonathan Douglas says the research showed how important a role libraries had in supporting literacy.
"In the UK today one in six people struggles to read, write and communicate, which can affect their health, confidence and employability.
"The National Literacy Trust campaigns to improve public understanding of the vital importance of literacy."