Top universities warn against 'soft subjects'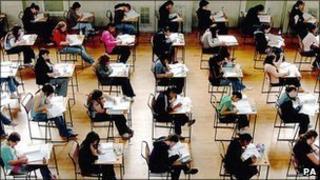 A group of top UK universities has published guidance advising students to take traditional subjects at A-level.
The Russell Group warns students not to disadvantage themselves by picking the wrong subjects for their degree course.
It advises students to study at least two subjects from a list of "facilitating subjects" such as English and maths.
Otherwise courses at many competitive universities will not be open to them, it warns.
It is the first time the group of some of the UK's 20 leading universities has published such all-embracing guidance on university entrance and course choice.
Up until now, individual universities have published entry requirements on their own websites.
Produced in collaboration with the Institute of Career Guidance, the guide, called Informed Choices, is aimed at pupils making their post-16 qualification choices.
It comes after MPs voted in December to allow universities to raise fees to a maximum of £9,000 a year.
Ministers said at the time vice-chancellors would be required to boost their efforts to get students from poor backgrounds studying at their universities.
The online guide features attention-grabbing yellow and black boxes of text exhorting would-be graduates to pay particular attention to the advice contained in them.
One of the earliest of these refers young people to a list of "facilitating subjects" - English, maths, physics, biology, chemistry, geography, history and languages.
It suggests students should have A-levels in at least two subjects from the list to improve their chances of getting in.
"If you decide not to choose some of the facilitating subjects at advanced level, many degrees at competitive universities will not be open to you," it adds.
Life chances
But it also warns: "If you plan to take more than one perceived 'soft' subject, some caution may be needed."
It lists these subjects as those "with a vocational bias" such as media studies, art and design, photography and business studies.
Dr Wendy Piatt, director general of the Russell Group, said: "All students - particularly those from less advantaged backgrounds - must have access to appropriate information and guidance about the choices that will maximise or reduce their opportunities and life chances from an early age.
"It is really important that students do not disadvantage themselves by choosing a combination of subjects at A-level which will not equip them with the appropriate skills and knowledge for their university course or which may not demonstrate effectively their aptitude for a particular subject.
"Informed Choices emphasises the importance of 'facilitating' subjects, such as maths and English, which are particularly effective in equipping students with the skills they need for a large number of competitive courses and in increasing a student's chances of getting on to those courses."
Sir Peter Lampl, chairman of education charity Sutton Trust, welcomed the guide, adding that he hoped it would help "bright non-privileged students in particular, who all too often do not receive the support and guidance they need at this key juncture in their lives".
'Better information'
Universities minister David Willetts said the guide was a "welcome step towards levelling the playing field for prospective students".
He added: "Improving information for prospective students is a priority for the government, and will form a key part of our plans for higher education.
"We are committed to making information clearer for students from all backgrounds, to improve access to the most selective universities."
Isabel Nisbet, chief executive of the qualifications watchdog Ofqual, said the report was a step in the right direction.
"In December I challenged the higher education sector to give applicants better information about which qualifications they need to win a place at university. Students are not clairvoyants.
"They need clear information on which qualifications they need for their chosen university courses so they can make informed decisions."