Schools adjudicator rapped over church school comments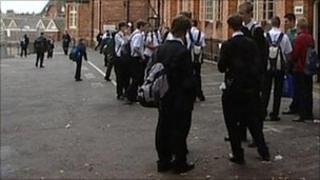 England's Schools Adjudicator has been criticised by MPs for comments he made to journalists last year about church schools' admissions codes.
Dr Ian Craig was quoted in November as saying complex points systems favoured middle classes families.
He said some parents were given credit for bell ringing and church cleaning - "skewing" a school's intake.
Appearing before a committee of MPs on Wednesday, Dr Craig was accused of overstating the extent of the problem.
He was taking questions from members of the Commons Education Committee on the Office for Schools Admissions annual report, which was published in November.
Damian Hinds, Conservative MP for East Hampshire, asked Dr Craig to clarify how many of the cases his office had ruled on related to church schools' admissions codes.
Dr Craig said 45 of the 151 cases last year related to "own admissions" faith schools, of which 23 related to supplementary information forms and 12 related to the "clarity and complexity" of the criteria.
"So that's 12 or 23 out of 6,753 religious schools in this country," Mr Hinds said.
"Can I make a request that in next year's report, given the publicity that extended to this year's report, that the Office makes strenuous additional efforts to put into context the extent of this problem and the extent to which there is not a problem, clearly, in the vast, vast majority of schools."
"I'm very happy to take that on board," Dr Craig replied and said he had already written himself a note to that effect for the next report.
But he stood by his concerns that church school entrance criteria needed to be objective and clear.
"Some faith schools do have, we have evidence, inappropriate points systems in place that are not necessarily objective and they could relate to some sections of the community over others," he told MPs.
He went on: "Any points system, if employed, must be objective, that's the first thing, and parents must be able to ascertain how easy it is for them to be able to meet whatever criteria they would need to meet."
Aptitude tests
Dr Craig also raised concerns about aptitude tests, saying these were all too often a measure of ability.
"For example, in musical ability, how do you test for aptitude while trying to screen out any prior learning a child has had?
"It is very, very difficult to differentiate between aptitude and ability."
Dr Craig said he had looked up aptitude in the dictionary and found it gave ability as a definition.
"If the Oxford dictionary can't distinguish between aptitude and ability, I find it very difficult for us to do that."
Dr Ian Craig said his office had also noticed a trend in lawyers taking up parents' battles to get their children into their preferred state school.
"More and more lawyers know we're there."