University applications rise but demand is slowing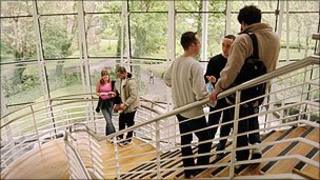 Universities face a record level of applications this year - but the rate of increase has slowed down, the latest admissions figures reveal.
This is the last year of entry before fees rise in England - and there had been expectations of a surge in demand.
But the figures up to the mid-January deadline show a 5% increase across the UK - the lowest in recent years.
There also appears to have been a sharp fall in applications around the time of the tuition fees vote and protests.
University applications had been running at a 20% increase in November before plunging to -2% in December, when MPs voted to raise fees in England from 2012.
In January the rate of increase was 0.7% - with applications from school-age pupils, aged 17 and 18, remaining particularly flat.
Missing out
There will be intense scrutiny of how university applications are affected by the controversial increase in tuition fees to up to £9,000 per year in England.
There have been warnings that higher fees will deter poorer applicants - but such an impact would have been expected next year when higher fees are introduced.
But these latest figures from the UCAS admissions service, showing the position at the deadline for most courses beginning in autumn 2011, send out mixed signals.
The figures show that 583,501 people had applied by the January deadline, a rise of 28,062 from the same point last year.
This means that more people are applying for UK university places than ever before.
And it means more intense competition for places this summer than ever before.
But instead of a spike in demand to beat the increase in England, the rate of increase of applications from people living in England, 3.7%, is much lower than in Scotland, where it is 6.1% and Northern Ireland where it is 6.5%.
An analysis of the age groups applying also shows that it is older students who are pushing the increase - with a 15% increase among 21 year olds, compared with 0.6% for 17 and 18 year olds.
The increase from UK students is also being outstripped by increased demand from EU students, 17%, and non-EU students, 7.7%.
The 1994 Group of research-intensive universities welcomed that there was "no rush towards 'panic applications' with students rushing to avoid increased graduate contributions".
Rising demand
There has been a sustained increase in demand for university places in recent years - with a series of record numbers of applications.
Last year there were almost 700,000 applying for 487,000 places, with more than 200,000 applicants failing to get places.
The latest trends from these mid-January figures suggest there will once again be another set of records in both applications and those not getting places.
"These latest figures on applications show that even more students are hoping to get to university in 2011 but they will be fighting over exactly the same number of places," said Les Ebdon, chair of the Million+ group of new universities.
"Ministers may be right to say that getting to university should not be easy but they are wrong to allow nearly one in three students to miss out on university."
NUS president Aaron Porter also called for action to tackle a shortage of places.
"For the third year running a cap on student numbers looks set to leave tens, if not hundreds of thousands of well-qualified applicants without a place and forced to contemplate both a long process of reapplying next year and facing huge increase in fees."
But Nicola Dandridge, chief executive of Universities UK, said: "As always, competition for places is likely to be strong. However, speculation and panic benefits no-one. There is still a good chance of securing a place at university."
Universities Minister David Willetts said: "In a year of unprecedented demand from applicants, we kept our commitment to fund an extra 10,000 student places, allowing more students than ever before to go to an English university in 2010.
"A strong demand for places was expected this year so universities will be able to recruit the same number of new students in 2011."