Languages in state schools 'decline further'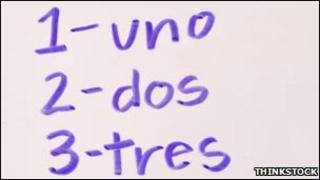 The number of state secondary school pupils in England learning a language continues to decline, a study suggests.
A survey shows the proportion of state schools where more than 50% of pupils study a language in Year 11 dropped from 43% in 2009/10 to 38% this year.
Cilt, the National Centre for Languages, found many state pupils only get two years of language learning.
No such decline was found in private schools, where pupils also had greater access to non-mainstream languages.
Cilt's survey, which has been carried out annually since 2002 to track trends in language provision and take-up, is based on responses in the autumn from 711 schools - 566 of them state-funded, and 145 in the independent sector.
The responses indicate that the number of schools where more than 75% of pupils study a language fell from 26% in 2009/10 to 21% in the current school year.
The research also notes that one in five state schools, compared to 14% last year, have squeezed Key Stage 3 study (ages 11 to 14) into two years, allowing teachers to focus on GCSEs which are used to measure schools in league tables.
The Cilt report says: "This represents a significant reduction in the amount of time spent on languages for those pupils who do not take the subject to GCSE, and is further evidence of the 'wash back' effect of making languages an optional subject in Key Stage 4 [GCSE-level]."
Under the previous government, the study of languages became optional from September 2004 for pupils aged 14 and above.
The most popular foreign language in schools is still French, although more schools now offer Spanish than German.
And the proportion of state schools offering Urdu has increased from 6% in 2007 to 10% in 2010.
Independent advantage
The Cilt research found that pupils in independent schools were much more likely to study a language - some 94% of private schools had more than half of Year 11 pupils learning one.
It also found they had much more access to learning non-mainstream languages such as Mandarin and Russian.
"Pupils attending independent schools are more likely to have opportunities to study Arabic, Italian, Japanese, Mandarin and Russian than those in the maintained sector," the report said.
"This has implications for the opportunities which will be open to them in future," the report says.
Baccalaureate boost
However, with the introduction this year of the English Baccalaureate - which means schools are now measured on how many pupils get grade C or above in English, maths, science, history or geography, and a language - it is likely that language take-up in state schools will increase dramatically.
Cilt welcomes the introduction of the English Baccalaureate, saying it signals the new government's "recognition that a degree of competence in a foreign language is an essential part of everyone's education".
But the organisation is concerned that alternative qualifications to GCSEs, such as NVQs, are not recognised in the Bac.
"Schools committed to increasing uptake in languages and unconvinced by GCSEs have seen alternative courses which offer real life scenarios in a work context as more appropriate.
"They feel they meet the needs and interests of their students and are equally demanding."
Cilt also raises concerns about how schools will meet the expected increase in language take-up, given the gradual scaling down of many language departments over the past few years.
Chief executive of Cilt, Kathryn Board, said there was a clear gap to be closed if language provision was to be improved after years of being "pushed to the margins".
"Young people coming out of university with language degrees, after medicine, are the most employable of all graduates.
"International and global trade is the norm and I think it's obvious that young people who either have another language, or the capacity to learn another language quickly, are going to be more employable than mono-linguists."
Professor Mike Kelly, programme director of Links into Languages, said universities were finding it very difficult to recruit students onto language undergraduate courses from the state sector.
"Increasing proportions of students doing languages degrees are from independent schools," he said.
"This is a serious worry for universities who, of course, want to widen participation as far as possible."
A spokesman for the Department for Education said the Cilt report confirmed concern about "the sad decline in the uptake of languages at GCSE" and said the introduction of the English Baccalaureate was designed to reverse this trend.
"Learning a foreign language is important not only for the educational development and employment prospects of an individual student, but also for the social and economic future of our country," he added.