Graduate unemployment at highest for over a decade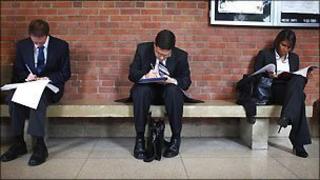 One in five UK university leavers who entered the labour market failed to find a job last year, as graduate unemployment reached its highest level since 1995, government figures show.
The Office for National Statistics data showed graduate unemployment had nearly doubled during the recession.
The figures are from the third quarter of 2010.
It follows research suggesting a rise in graduate opportunities took place towards the end of the year.
The figures showed that graduate unemployment had risen faster - from 10.6% to 20% - than unemployment for the UK as a whole (5.2% to a high of 7.9%).
'Hostile' market
They refer to graduates who were available for work and looking for jobs, but unable to find employment.
Meanwhile, unemployment for 16-17 year-olds remains "historically high", the ONS said.
In the third quarter of 2010, 44.3% of economically active young people in that age bracket, who had left school, were unable to find a job - the highest since comparable records began in 1992.
Graduates aged 21-24 were still less likely to be out of a job (11.6%) than their peers without degrees (14.6%), the figures showed.
However, a survey of more than 200 employers in the UK published on Tuesday suggested the picture may be improving.
The research by the Association of Graduate Recruiters revealed an 8.9% annual increase in graduate jobs.
But it also showed that average starting salaries had not risen for three years, staying at £25,000.
The improving jobs market was driven by a surge of vacancies at the end of last year, says the survey, with a forecast of a further 3.8% increase for this year.
In response to the ONS figures, National Union of Students president Aaron Porter said: "These new figures show that graduates are encountering an exceptionally hostile jobs market and the government persists with policies that put the burden of the country's debt on the young."
Mr Porter called for the reinstatement of the £1bn Future Jobs Fund, which is used to fund temporary employment for 18-24 year-olds in England, Scotland and Wales who have been out of work for more than six months.
The fund is due to close in March.
Minister for Employment Chris Grayling said the figures were evidence that young people were "shouldering the burden of the Labour Government's mistakes".
"As well as paying for the enormous debt left behind, young people are struggling to get into work despite the billions Labour has squandered on schemes such as the New Deal and the Future Jobs Fund, which only offered short term, public sector jobs that were unsustainable," he said.
Mr Grayling said the priority should be creating financial stability, and that a new government work experience scheme would help make young people more employable.