Cambridge University mulls cutting one-to-one tuition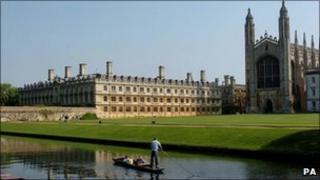 Cambridge University has said it is considering reducing individual tutorials for students as a cost-cutting measure.
One-to-one supervisions, traditionally a hallmark of a Cambridge or Oxford University education, currently account for 13% of Cambridge's tutorials.
Replacing some with tutorials for pairs of students could save about £600,000 a year, an internal working paper says.
One academic said she believed such cuts would be a "serious error".
Cambridge Students' Union said one-to-one tuition was not always best.
John Rallison, Pro-Vice-Chancellor for Education at the university, said an internal review had "recommended that one-to-one supervisions be restricted to dissertations, portfolios and project work where students genuinely need individual teaching".
"Like all universities, Cambridge needs to contain costs," he said.
Noting that supervision costs had risen by 2% per student per year in real terms each of the last five years, he said the review had recommended that annually reviewed guidelines be set about the number of supervisions students should receive.
The university confirmed that the working paper, which had been leaked to the media, estimated that £600,000 a year could be saved by replacing all individual tutorials with supervisions for pairs of students.
A spokesman said that currently the number of individual tutorials varied depending on the subject.
The remaining 87% of tutorials take place in groups of two, three or more students.
Funding squeeze
The development comes as universities in England face a £300m cut to this year's teaching budget, a reduction of 6%, as well as cuts of 54% to capital funding related to teaching.
The Cambridge Students' Union said it was "very concerned by the severity of the cuts being imposed on the higher education budget".
But its president, Rahul Mansigani said: "While personalised small group teaching is a fundamental part of our education here, there is significant evidence that one-to-one supervisions are not always the most educationally beneficial teaching method."
"There are situations where one-to-one supervisions are of clear educational value, and we are confident that we have secured the University's willing commitment to preserve these," he said.
But Gill Evans, Cambrige emeritus professor of medieval theology and intellectual history, said she believed the change would "almost certainly destroy the uniqueness of Oxford and Cambridge teaching".
"It would be a serious error for Cambridge to make a change now, under temporary financial pressure, which it is very hard to reverse," she said.
Prof Evans said students may have mixed views about one-to-one tuition because larger seminars could be "less effort" for the student.
But she said that debating with an expert scholar was a valuable experience, especially for arts and humanities students.
"It's the weekly intellectual struggle to get your essay finished and then defend it that shapes the type of graduate Oxford and Cambridge produce," she said.
Prof Evans also raised concerns that small-group tutorials might be replaced by larger seminar groups.