Axing of school buildings 'unfair', High Court hears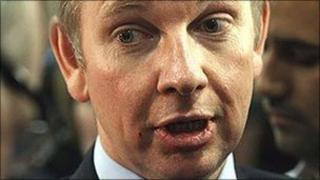 Six councils have told the High Court that ministers acted "unfairly and unlawfully" when they abolished school building schemes in England.
The Building Schools for the Future (BSF) scheme, introduced by Labour, was axed in July after the coalition government came to power.
Education Secretary Michael Gove said the scheme was needlessly bureaucratic and beset by overspends.
Every secondary was to be rebuilt or refurbished at a cost of around £55bn.
But axing the scheme meant that at least 700 school rebuilds would not go ahead.
The councils - Waltham Forest, Luton Borough Council, Nottingham City Council, Sandwell, Kent County Council and Newham - brought their challenge to the High Court in London on Tuesday.
They argued the stopping of building, re-building and refurbishing projects in their areas was arbitrary and legally flawed.
They asked Mr Justice Holman to order Mr Gove to reconsider individual schemes, properly taking account of their merits.
Failed to consult
Lawyers for the councils say the education secretary failed to consult properly, did not give adequate reasons before stopping projects and breached legitimate expectations that they would be funded.
But Mr Gove argues that his decisions were not made lightly and are not open to legal challenge.
In written statements put before the court, his lawyers say the coalition had inherited "the largest budget deficit in peacetime history", and spending cuts had to be made "quickly and significantly",
Substantial cuts "inescapably" had to be made to bring BSF spending down to manageable levels, and there was no obvious or reasonable alternative.
A set of general principles was applied to decide which projects were scrapped, but Mr Gove did not consider it "practicable or appropriate" for him to arbitrate between the claims of a large number of different authorities, or an even larger number of individual schools.
Mr Gove's lawyers say each of the six councils seeking judicial review will in any event receive in total "well in excess of £1bn in BSF funding", and the case was about "whether they must get even more".
The hearing is expected to last a week.