Most degrees will cost £9,000, predicts student leader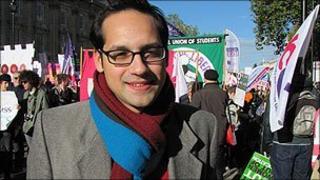 A majority of universities in England will charge the maximum annual tuition fee of £9,000, predicts National Union of Students president, Aaron Porter.
Mr Porter says his "behind the scenes conversations" with universities suggest fees of £9,000 will be common.
But Universities UK chief executive, Nicola Dandridge, says it is too early to speculate on fee levels for 2012.
The NUS leader is also calling for financial compensation for students if courses are below standard.
After a stormy winter of student protests over fees and university cuts, the student union leader is now looking ahead to another wave of demonstrations.
'Promises'
"The government made promises to get the tuition fees through the vote - but I don't believe they can deliver," says Mr Porter.
"They said that £9,000 would only be charged in exceptional circumstances, but I suspect that 50%, 60%, 70% are going to charge £9,000.
"From the conversations I've had behind the scenes, universities believe that the price they set will be a sign of quality - and they will charge whatever they can get away with."
Universities UK's Nicola Dandridge rejects such an assumption, saying that universities have not yet made pricing decisions and so there is no way of knowing the levels of fees that will be charged.
A spokesperson for the Department for Business, Innovation and Skills also warns that "irresponsibly" high fees will put pressure on public funding.
"Higher fees mean higher loans, which are heavily subsidised by the taxpayer, so if universities act irresponsibly by setting their fees too high it will have an impact on other funding streams in later years."
Flashpoints
After the flashpoints of last year's demonstrations leading up to the tuition vote in December, university leaders might have been hoping that the student protests would fizzle out.
But the 26-year-old NUS leader, speaking in Westminster, says that the wave of occupations and marches has seen this generation undergo a "seismic shift" in political attitudes.
"Young people have a sense of injustice," he says, pointing to the increase in tuition fees, rising youth unemployment and the removal of the Education Maintenance Allowance.
There are more protests planned for this week - with rival demonstrations in London and Manchester.
A coalition of anti-cuts protest groups is to march once again in Westminster - while the NUS and the TUC are holding their own protest in Manchester.
Mr Porter, the articulate public face of student anger, who describes himself as a "moderniser", has himself faced attacks for not being radical enough, as acrimonious divisions emerged between protesters.
More radical groups want a more militant student leadership.
But Mr Porter now wants to push the arguments beyond tuition fees, saying protests must be about wider issues and that it cannot be "protest for its own sake".
He also argues for tactics that fit the digital world of students. He says students might not read newspapers any more, but they can be rapidly mobilised and engaged through social networking. "They've become news-formers themselves," he says.
Campaigns should be "sophisticated and innovative", he says. It's more of a case of sounding the re-tweet, than the retreat.
Consumer rights
If higher fees are pushed through, he says universities are going to face much tougher demands from well-organised students wanting value for money - including a US-style culture of litigation.
The NUS is in talks with the business department about increasing consumer rights for students.
He says the independent complaints watchdog should have a presence on every campus and that universities should be required to give back half of the tuition fee if a student does not receive what is promised in a prospectus.
There is also a call for students to be able to switch universities if they are unhappy with how they are being taught.
The student protest movement also faces questions about its future tactics.
Aaron Porter has always distanced himself from the violence that saw protesters clashing with police.
He emphasises the need for the NUS to remain a mainstream voice, representing the range of views, not all of them radical, within student unions.
"It's not the role of the NUS to advocate revolution," he says. "We have been critical of violence. We want to keep public opinion on our side."
But he says the "tipping point" that made the protests so angry was the sense of betrayal over the Liberal Democrats' pledge to oppose any increase in tuition fees.
"They felt lied to. It meant that the reaction was different. That level of anger hadn't been anticipated."
The NUS takes the credit for running the anti-fees pledge campaign, signed by Liberal Democrat candidates before the general election last year, that subsequently became such a feature of the protests.
"The pledge turned out to be the most innovative campaigning tactic of 2010. We didn't set out to discredit Nick Clegg and the Liberal Democrats - but they fell into a trap and they have to live with the consequences."
'Stage managed'
For Aaron Porter, a youthful veteran of 24-hour news and punditry, there might be an expectation that he would take the well-worn path from heading the NUS into a political career.
He's not long out of university himself - having studied English at Leicester University, where he says he admired the work of writers such as Alan Bleasdale, Tennessee Williams, Arthur Miller and Samuel Beckett.
But he says that his tumultuous months in office - when students have made more headlines than they have for decades - has left him less enthusiastic about the world of Westminster.
He talks about the dissatisfaction of young people with the political process and their disenchantment with the "cosmetic" and "stage managed" workings of political leaderships.
"Young people look at politicians and they're not convinced," he says.