High Court battle over Building Schools for the Future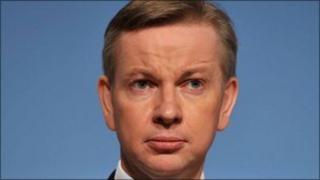 A legal challenge to the government's decision to axe England's secondary school rebuilding programme is getting under way.
Six councils are urging the High Court to overturn the decision to scrap Building Schools for the Future schemes in their areas.
More than 700 rebuilds were cancelled when the £55bn scheme was axed by the education secretary in July.
The government said it would robustly defend the claims.
The councils involved in the legal bid to overturn Michael Gove's decision are Waltham Forest, Kent County Council, Luton Borough Council, Nottingham City Council, Newham Council and Sandwell Council.
'Devastating impact'
They announced their decision to seek a judicial review of the decision to end the programme in their areas in October.
Grounds for the challenge include the failure of the Department for Education to consult on its decision to axe the scheme or give reasons for allowing which schemes would go ahead and which would not.
Waltham Forest Council leader Councillor Chris Robbins said his council stood to lose £275m of investment because of Mr Gove's decision.
He added a judicial review was his council's only option because the government would not "sit down amicably and explain their decision to us".
He added: "We have significant levels of deprivation in our borough and Building Schools for the Future (BSF) was a once-in-a-lifetime opportunity to raise the aspirations of our entire population.
"That chance has been snatched away from future generations and will have a devastating impact for years to come."
'Inefficient'
The announcement that BSF was being scrapped provoked an outcry from politicians, councils, teachers and pupils.
School personnel were often very closely involved in bringing together their school's BSF bids.
But Mr Gove claimed the scheme was inefficiently run, claiming it was best by "massive overspends" and "needless bureaucracy".
Days after announcing the move, Mr Gove came under fire over his handling of the situation after it emerged that initial lists of affected projects were strewn with errors.
The mistakes meant several schools which believed they would be able to go ahead with their building projects had their hopes dashed.
A Department for Education spokesman said: "The coalition government has been clear that the end of BSF is not the end of school rebuilding.
"That's why we have launched a comprehensive review of all capital spending so that school building can be done more efficiently and quickly."
That review, being carried out under the leadership of Sebastian James, was expected to report by the end of 2010.
A spokesman said it would now report in the next couple of weeks.
The High Court hearing begins in earnest on Tuesday, after a day of reading papers, and is due to last a week.