Ucas figures: Fewer UK students get university places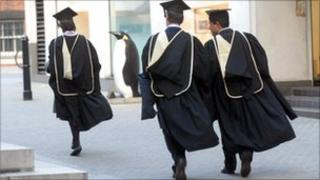 Official figures show that the number of UK students accepted onto university courses dropped last year, as record numbers failed to get places.
More than 210,000 would-be students were left without a university place in the UK, final figures from the admissions body Ucas show.
The number of British students accepted onto courses dropped by 400, despite an increase in international students.
Some universities welcomed the rise, warning against cuts in student visas.
But the Million+ group of new universities warned of a "worrying picture", saying the acceptance rate for all applicants had fallen from 78% to just 70% in six years.
There are fears of heavy demand for places this year, as students rushing to beat tuition fee rises in 2012 compete with those who failed to get places in 2009-10.
Early figures for this year's applications in January showed a 2.5% increase on 2009-10.
Last year saw record numbers of applications - 697,351, up 9% on the previous year.
But despite an extra 57,491 people applying in 2010, only an extra 5,475 people were accepted.
Of those, nearly a third of these were from the European Union, and the rest were from outside the EU.
'Double whammy'
It is the first time in three years that the number of UK students given places has dropped.
Students from within the EU apply to the same limited pool of places as home students, are eligible for student loans - and in Scotland do not have to pay tuition fees, the same as for Scottish students.
But places for international students from outside the EU are separate, and universities can set their own fees - some of which are much higher than for home students.
The 1994 group of leading universities said the 10% growth in international students was a "major success story".
"Higher education is one the UK's most successful export industries and today's figures show that it is going from strength to strength," said the group's executive director Paul Marshall.
"However, this progress could be brought to an alarming halt if ministers follow through on plans to scrap all visas for international students taking courses below degree level," he added.
The government has announced a consultation exercise on proposals to reduce the number of visas given to such students.
The 1994 group argues that many who come to the UK to do non-degree programmes stay on for higher level study.
However, Les Ebdon of the Million+ group warned that with high youth unemployment in the UK, those failing to get places faced a "double whammy".
"The government's failure to keep up with rising aspiration and to fund enough extra places, means that a whole generation of students will miss out on the life-changing opportunities that a university education provides," he said.
Universities Minister David Willetts said: "Going to university has always been a competitive process and not all who apply are accepted.
"Despite this, we do understand how frustrating it is for young people who wish to go to university and are unable to find a place. There are other routes into a successful career.
"Our reforms will make part-time university study more accessible and we are also investing in new apprenticeship places, with an additional 75,000 being created by 2014."
In England, an extra 10,000 places added in 2009-10 will be maintained this year, but will not be funded beyond that. Ministers say this is because a "demographic bulge" will be over and they will not be needed.