Gove: 'Door open' for compulsory foreign language GCSE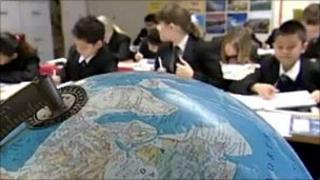 Education Secretary Michael Gove has signalled the possible return of a compulsory modern foreign language at GCSE.
Launching a national curriculum review in England, he cut the list of subjects guaranteed to remain compulsory to English, maths, science and PE.
A panel of experts will decide how many more subjects should be required study, and the content of these at all levels.
Mr Gove also suggested pupils should study a broader range of literature.
He claimed that currently pupils could get a GCSE in English Literature having studied just one novel.
Despite a long list of recommended authors, Mr Gove said many schools were concentrating on just a few texts.
He said: "There was an element of a sleight of hand by the last government - they said we've got Pope, Dryden and Chaucer - but when you visit schools you would find they were overwhelmingly studying of Mice and Men and Lord of the Flies."
Mr Gove said English, maths and science should form the core of the what pupils study up to the age of 16.
When asked whether he was "leaving the door open" to making modern foreign languages compulsory at GCSE, Mr Gove responded with an emphatic "yes".
He added: "We have given people a nudge with the English Baccalaureate towards a certain set of academic subjects."
"Beyond that we want to have an informed debate."
To gain the English Baccalaureate pupils need good GCSEs in English, maths, science, a modern foreign language, and either history or geography.
'Culturally impoverished'
The requirement for teenagers to take a language at GCSE was ended by the last Labour government in 2004. It led to a massive slump in the numbers taking languages.
Mr Gove has long criticised the size of the national curriculum, introduced by Conservative Kenneth Baker in 1988, which has been amended and enlarged significantly over the past two decades.
He wants it to be less about learning skills and defining teaching methods, and more about ensuring all children have the opportunity to acquire a "core of essential knowledge".
Mr Gove said reform was vital if England was to keep up with its international competitors, and it had to happen fast otherwise children would be "culturally impoverished".
Research already showed that 15-year-olds studying maths in China were more than two years ahead of those in England, he said.
Mr Gove also said he thought "there should be a debate about whether one afternoon a week should be given over to competitive sport or outdoor community activities".
Currently schools must teach 13 compulsory subjects to children aged 5-7, rising to 14 for pupils aged 7-14 and then dropping to eight for 14-16 year-olds.
This includes Religious Education, which is a statutory requirement, although parents can opt their children out of classes.
At the Conservative Party Conference, Mr Gove said it was a "tragedy of our time" that children were growing up ignorant of the history of the UK.
He said children were given a "cursory run" through Henry VIII and Hitler" at secondary school, and many gave up the subject at 14, without grasping a connected narrative.
Mr Gove has already asked the historian Simon Schama to advise on how British history could be "put at the heart of a revised national curriculum".
The new curriculum in the core subjects of maths, English, science and PE will be introduced from September 2013, Mr Gove said, with other subjects brought in the following year.
RE teaching will remain a statutory requirement, and personal, social, health and economic (PSHE) education will be reviewed by the government separately.
'1950s-style curriculum'
Nasuwt general secretary Chris Keates said the review was "pointless" as ministers had "already determined that children should have a 1950s-style curriculum".
National Association of Head Teachers general secretary Russell Hobby, said heads wanted to see a less prescriptive national curriculum but one that covered "the basics while leaving room for creativity, culture and excitement".
Brian Lightman, general secretary of the Association of School and College Leaders, said it was not just about the transfer of knowledge, but about the skills and range of experiences children received in school.
Andy Burnham MP, Labour's shadow education secretary, said Mr Gove was "stuck in the past, foisting his 1950s vision of education onto today's schools and students".
He added that despite claims he was consulting with teachers and parents, the launch of the English Baccalaureate showed Mr Gove had "already made up his mind".