Gove stresses 'facts' in school curriculum revamp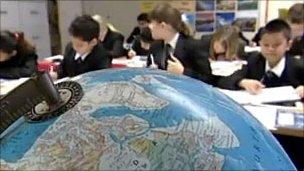 Education Secretary Michael Gove has said he wants more "facts" in England's national curriculum, as he launches a review of what children are taught.
Mr Gove told the BBC there was currently too much focus on teaching methods and not enough on content.
The review may opt for fewer compulsory subjects, with ministers specifying only four that must be studied.
Labour and teaching unions accused him of trying to foist 1950s-style education on to schools.
Under the review, launched on Thursday, a panel of experts will examine the national curriculum, which defines what is taught in England's state schools.
Mr Gove said the current curriculum was "sub-standard" and England had sunk in international education league tables, adding that 15-year-old maths students in China were now two years ahead of those in England.
He said he wanted to reduce "unnecessary prescription" and that the curriculum would be slimmed down so that it reflected the "essential knowledge" that children should learn.
Speaking on the BBC Radio 4's Today programme, Mr Gove said it would be for the panel leading the review to determine what content should be specified in the new curriculum.
"I'm not going to be coming up with any prescriptive lists, I just think there should be facts," he said.
"One of the problems that we have at the moment is that in the history curriculum we only have two names [of historical figures], in the geography curriculum the only country we mention is the UK - we don't mention a single other country, continent, river or city."
The education secretary has in the past been vocal about the lack of a "connected narrative" in the teaching of British history.
Writing in the Daily Telegraph on Thursday, he lamented the absence in the curriculum of figures such as Winston Churchill, Florence Nightingale and Horatio Nelson.
The current curriculum specifies what students should study in some subjects, such as maths, but outlines only broad areas in others, such as history, leaving teachers to decide on content.
Mr Gove said the new national curriculum should "embody for all children in England their cultural and scientific inheritance, enhance their understanding of the world around them and introduce them to the best that has been thought and written".
He said it should be informed by the best international practice.
The review panel has been asked to look at what subjects should be compulsory for pupils of different ages, as well as the content that should be taught in them.
The government has said that English, maths, science and PE must remain compulsory for children of all ages.
The review will then decide on whether other subjects should also be required study for different age groups.
Currently schools must teach 13 compulsory subjects to children aged 5-7, rising to 14 for pupils aged 7-14 and then dropping to eight for 14-16-year-olds.
The fourteen subjects are art and design, citizenship, design and technology, English, geography, history, ICT, mathematics, modern foreign languages, music, physical education, science, PSHE (personal, social, health and economic education) and religious education.
Mr Gove said religious education would remain a statutory requirement at all ages (although parents can choose to stop their children from attending classes), but no programme of study would be prescribed.
PSHE will be reviewed separately.
Academies, which operate outside local authority control, and free schools, set up by parents and other groups - both types of school championed by Mr Gove - do not have to teach the national curriculum.
But Mr Gove said he hoped it would act as a "national benchmark of excellence for all schools".
The review panel has been named as:
Tim Oates (chair) - director of assessment research and development at Cambridge Assessment
Bernice McCabe - head of North London Collegiate and co-director of the Princes' Teaching Institute
John McIntosh - retired head of the London Oratory School
Sir Michael Wilshaw - head of Mossbourne Community Academy, Hackney, and director of education at ARK
Professor Dylan Wiliam - formerly a deputy director at the Institute of Education and professor of educational assessment
The new curriculum in the core subjects of maths, English, science and PE would be introduced from September 2013, Mr Gove said, with other subjects brought in the following year.
The NASUWT teaching union said teachers "want another curriculum review like a hole in the head".
General secretary Chris Keates said the review was "pointless" as ministers had "already determined that children should have a 1950s-style curriculum".
Russell Hobby, general secretary of the National Association of Head Teachers, said heads were "hoping for a significant reduction in the depth and breadth of prescription".
He said they wanted a curriculum "that covers the basics while leaving room for creativity, culture and excitement".
Brian Lightman, general secretary of the Association of School and College Leaders, said it was important that the government looked at the whole curriculum in a "holistic way" and recognised that it was not just about the transfer of knowledge but about the skills and range of experiences children received in school.
Andy Burnham, Labour education spokesman, said Mr Gove was "stuck in the past, foisting his 1950s vision of education on to today's schools and students".
He said that alongside solid academic study, young people needed technical and social skills to succeed in the workplace and in life.
"Michael Gove is trying to tell us today that he is consulting with parents and teachers on what should be taught in schools. But with the English Baccalaureate and the likely downgrading of ICT and citizenship, schools know that he has already made up his mind," he said.
The curriculum review comes a week after the government published school-by-school results for a new measure, the English Baccalaureate.
It will be awarded to pupils achieving GCSE grades A*-C in maths, English, two science qualifications, a modern or ancient language, and geography or history.
Mr Gove says the aim is to push schools to give a broader education, but critics say it is too traditional and excludes subjects such as technology, religious studies and music.
Related Internet Links
The BBC is not responsible for the content of external sites.