MPs to debate axed EMA grants for low-income students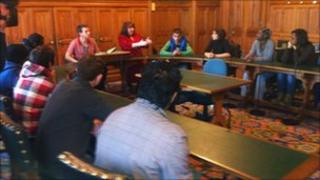 MPs are to vote on a Labour call for a rethink of the government's decision to scrap the Education Maintenance Allowance for low-income students.
Ministers say the allowances of up to £30 a week for students in England aged 16 to 19 are wasteful and money should be targeted on the poorest.
Labour has appealed to Liberal Democrat MPs to back the motion, but a major rebellion is thought unlikely.
Students are planning a second day of action over the issue.
Students held lunchtime demonstrations on at least 30 school and college campuses, the University and College Union said.
A rally is scheduled in central London, and a group of students are holding classes in a room in the Houses of Parliament in protest against the decision.
Education Maintenance Allowances (EMAs) were introduced by Labour to encourage young people from deprived backgrounds to stay in education and training after the age of 16.
Students whose parents' earnings fall below certain thresholds receive payments of £10, £20 or £30 a week.
Wales and Scotland also have the payment, which is under review in Northern Ireland.
The allowance can be spent however the student chooses, but are intended to cover the cost of course equipment, books and transport.
Campaigners say many students will drop out of courses, and others will not be able to afford to start them, if the allowance is cut as planned.
But the government says the £560m scheme is expensive, citing research that suggests 90% of EMA recipients would continue in education without the allowance.
Ministers want to replace it with "more targeted" support for the poorest young people.
'Damaging impact'
Labour, however, argues in its Commons motion that EMA gives the poorest young people the choice of going to the best colleges in their area, by helping with transport costs.
Speaking on BBC television, shadow education secretary Andrew Burnham accused the Conservatives of breaking a pre-election promise, because David Cameron had before being elected that he had "no plans" to scrap EMA.
Mr Burnham said cutting the allowance could be costly for the state: "If you pull the rug from under [low-income students], the state will have to pick them up in a different way - it might end with them on the benefit system. Where's the sense in that?"
Critics complain some students spend the allowance on non-essential items and on socialising.
Mr Burnham said: "Yes, they may spend some of it on food and even the occasional time out with friends, but part of being in a college means taking part in the whole life of a college, and why should we say to young people from the least well-off backgrounds, well, 'you can't have those things'."
The Conservative chairman of the Education Select Committee, Graham Stuart, said cutting EMA would have some "some damaging impact".
But he said that savings had to be made because of the national deficit.
"Nearly half of all 16-17-year-olds are in receipt of EMA - do nearly half of all young people need to be paid by the government to go to school or college? I don't think so," he told the BBC.
Research by the University and College Union, published on Tuesday, suggested that 70% of students in the poorest areas would drop out of college if their EMA was stopped.
UCU polled more than 700 students, in the 30 colleges and schools with the highest proportion of students receiving EMA in England.
Some 38% of those polled said they would not have started their courses without EMA, while 63% said they received no financial support from their family for college costs.
Greatest barriers
The government says it now plans to support the most needy students through a discretionary fund administered by colleges, which it has said it hopes to triple from its current level of £26m.
The government also points out that local authorities have a statutory obligation to make sure that transport is not a barrier to students' education.
In his amendment to the Labour motion, Schools Minister Nick Gibb says support "must be in place to allow those who face the greatest barriers to participation to access this opportunity".
The amendment continues: "Government has increased funding for deprivation within the 16 to 19 budget and has already begun to replace the current education maintenance allowance system with more targeted support for those who face genuine barriers, including travel."