Students protest over axed EMA support allowance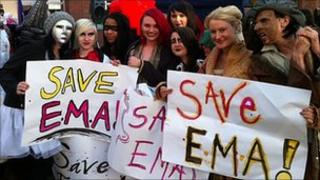 Students have held protests at about 30 schools and colleges in England against the scrapping of the EMA study support grant, campaigners say.
The protests come a day before MPs are due to vote on a Labour motion calling on the government to rethink its plan.
The government says the allowances of up to £30 a week for low-income students aged 16-19 are wasteful.
But a college lecturers union said 70% of the poorest students would drop out if it were cut.
Education Maintenance Allowances were introduced by Labour to encourage young people from deprived backgrounds to stay in education and training after they reach 16.
Students whose parents' earnings fall below certain thresholds receive payments of £10, £20 or £30 a week.
These can be spent however the student chooses, and used by many students to cover the cost of course equipment, books and transport.
'Tough decisions'
Walk-outs and demonstrations took place at colleges around England on Tuesday.
The University and College Union said it knew of about 30 lunchtime protests that had taken place, in colleges ranging from London, to Liverpool, to Newcastle and Cornwall.
One of the biggest was at Dudley College, where several hundred students rallied, some in fancy dress.
Students in Leeds were planning to hold a silent protest later in the day, while young people at City College Norwich were to light a candle for every student at the college who receives EMA.
A protest and lobbying of MPs is also planned for central London on Wednesday, as the issue is raised in an opposition day debate.
The government says the £560m programme is "hugely expensive" and wasteful, pointing to research suggesting that 90% of students receiving EMA would continue with their courses with the grants.
But research conducted by the University and College Union, published on Tuesday, suggested that 70% of students in the poorest areas would drop out of college if their EMA was stopped.
UCU polled more than 700 students, in the the 30 colleges and schools with the highest proportion of students receiving EMA in England.
Also, 38% of those polled said they would not have started their courses without EMA, while 63% said they received no financial support from their family for college costs.
Sally Hunt, general secretary of the UCU said the government's decisions over the EMA had been a "complete shambles".
"First they pledged they would not axe it, now they say they will.
"They clearly have no understanding of how important the EMA is or the difference it makes to so many people's chances of improving themselves," she said.
The government says it has had to make "tough decisions" because of the state of public finances.
It will now support the most needy students through a discretionary fund administered by colleges, which it has said it hopes to triple from its current level of £26m.
The government also points out that local authorities have a statutory obligation to make sure that transport is not a barrier to students' education.