Timing of A-level exams could be changed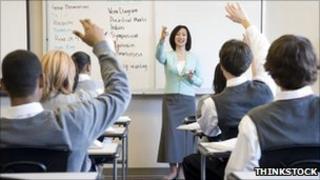 The government is considering overhauling the timing of A-level exams and results so pupils can apply to universities with their grades.
The new system would mean students no longer having to rely on predicted grades.
The overhaul is being considered for the forthcoming White Paper due to be published in the next few months.
Ministers are said to be in favour of a change as it could benefit children from poorer backgrounds.
The BBC's education correspondent, Reeta Chakrabarti, said under the current system those from poorer backgrounds typically have their grades under-predicted.
The Universities Minister, David Willetts, told The Times the system would need to be "re-engineered".
But he said: "Instead of speculative applications based on possible A-level grades everyone is dealing with how (a pupil) performs."
George Turnbull, the "exams doctor" for the qualifications watchdog Ofqual, said recently: "For those outperforming their predicted grades, there is a five-day window of opportunity to seek a place on more competitive courses, through the process known as adjustment."
"But the current pressure on places leaves little room for manoeuvre, " he added.
The deadline for applications to the University and College Admissions Service (Ucas) for 2011 entry is midnight on Saturday night.