EMA axe 'will hit students' ability to reach class'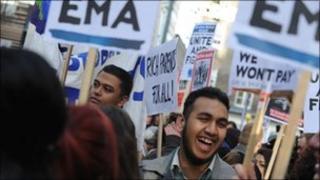 The abolition of the student support grant, the EMA, in England will affect some students' ability to reach class, college principals say.
As travel fares rise and cuts bite, there are particular concerns for those in rural areas, some of whom travel up to 35 miles (56km) to get to college.
Principals fear poorer students may not be able to follow the preferred course, due to unaffordable transport costs.
The government has pledged more targeted support for poorer students
In the Spending Review, Chancellor George Osborne announced plans to axe the scheme, which was designed to keep students coming to class, saying it had very high "dead weight costs".
The Department for Education has highlighted research that suggests many of the grants' recipients would attend college or school whether they received the money or not.
'Struggling'
But others say it is a critical factor in students' decisions about staying in education.
The findings come from a survey of 160 Association of Colleges (AoC) members.
Some 94% said they thought the abolition of the grant, worth up to £30 a week for the poorest students, will affect students' ability to travel.
The majority (78%) of colleges provide some form of financial assistance. The average spend is about £140,000 a year.
But figures are far higher for land-based colleges which specialise in agricultural and horticultural courses and tend to be in rural areas.
AoC President Chris Morecroft said: "There is a danger of students getting caught in a pincer movement between cash-strapped colleges and local authorities, which have also seen severe budget cuts.
"Our members are concerned that local authority subsidies may be at risk and even where subsidies remain, fares still may be out of reach for the poorest students.
"The abolition of the EMA (education maintenance allowance) will simply compound this, leaving the most disadvantaged students struggling to get to college to gain the qualifications they need to prepare themselves for a fulfilling and productive life.
"This may be an unintended consequence of the funding cuts faced by our colleges, local government and our students, but it flies in the face of the coalition government's avowed desire to improve social mobility."
The AoC is urging the government to reconsider its abolition of EMA funding.
'Learner support'
A Department for Education spokesman said it was determined to make sure that no young person was put off staying in education because of transport problems.
"Local authorities have a statutory responsibility to enable 16 to 18 year olds to attend education and training by making sure that transport is not a barrier.
"And we are reviewing all home to school transport including looking at transport for pupils who live in rural areas.
"But let's be clear, the deeply worrying state of the public finances has meant we've had to make some tough decisions. EMA was an expensive programme, costing over £560m a year with administration costs amounting to £36m, and only increased the participation in education of a minority of students.
"But we are not leaving pupils who genuinely face financial barriers on their own. We are significantly increasing the £26m learner support fund to help those most in need. We hope to at least triple this fund."
We have been asking for your reaction. Here is a selection of your comments.
If I do not receive EMA I will not be able to attend Yeovil college anymore because of the cost of transport. I spend at least seven pounds a day on transport to college. Jemma, Dorset
My son currently receives the maximum allowance of £30 per week in EMA. His travel expenses cost him £11.50 per week. This would mean having to find nearly £40 per month to get him to sixth form, money we do not have. What is the alternative, that he quits sixth form and joins the unemployed? Currently this would cost the government about £50 per week and leave my son with little hope of obtaining employment. Sylvia Page, East Sussex
I received EMA until I finished sixth form a few months ago, as did a few people I know. It was supposedly for study materials and transport. I spent the money on going out clubbing and the like. Others spent it on drugs. No-one used it for any other purpose to the best of my knowledge. The money was divvied up, based on the wages of your parents. As I did not live with my father, I received the money. If I did live with my father or my parents were not divorced I would not have received the money, as was the case for many of my friends. Matt, Oxford
It costs almost £50 a week for my son to attend college for just three days.We currently receive £20 EMA which helps but we are on low incomes and on tax credits and finding it hard, especially as train fares have just gone up. Our son has some learning difficulties which are well catered for at his college, if he didn't go there, he stands no chance of getting a job. Sharon Thomas, Stockport, Cheshire
I work as an instructor at an agricultural college in Devon and a lot of our students are on EMA and the vast majority spend their allowance on getting to and from college. The EMA has proved very successful in keeping students from a less affluent background at college. Their attendance is usually better than those not on EMA. The removal of this allowance will hit those that need the assistance the most, so much for an equal and fair society for all. Noel Hughes, Exeter
This September I will have two children in college. My husband works full time and I have a part time job, the EMA really helps with bus fares. If they stop EMA it means more expense for us, we struggle as it is and I think its disgusting that the government are stopping EMA. Will students who's parents don't work get theirs stopped? If they do, will the government put their parents social money up to cover it for them? Probably, it's a joke, I voted Lib Dem and they have conned us - all who voted for them and I shall never ever vote for them again. Jane Ansell, Liversedge
As a student who did not receive EMA at sixth form a few years ago: There were many many students who received it unlawfully (providing false details) or received the full £30 allowance and spent £20 of it every week on cigarettes and drugs. The bus in my area gives discount to students who hold a student card of any kind. So it didn't cost much to get there. I ended up in serious debt in the end but received no EMA, so I think scrapping it and putting the money back into schools, so the money can be more fairly distributed would be a huge benefit. The grant should not be given to those that do not need to travel. Tom, Swadlincote, Derbyshire
When I did an access course at 22, I received the Adult Learning Grant, the EMA for adults returning to education - which has also been axed. I was working as many hours as I could while at college, but this would barely cover my bills - not all students have the liberty of living at home. Between 19 hours of work and 17 hours of classes each week (plus travel and coursework) I was doing fourteen hour days. I was exhausted. There were weeks I couldn't afford food or bus fare to get to college without my grant. Now I'm at university and am about to graduate, but if it hadn't been for grants I wouldn't be here. I'd have had to drop out of college and go back to full-time work in a low-paid job with no prospects. People should be encouraged to better themselves with hard work, but they need help. Lucas Owen, Cardiff
I am in an apprenticeship and attend college one day a week. I studied for my A-levels at another local college. I had no trouble getting to either of them since I walked. There are regular bus routes around our town most of which pass the college. Someone who lives across the road from the college is still eligible for the benefit, as is someone who lives 30 miles away. My fiance received the benefit, but used £25 of the £30 a week on bus fares to and from college. If the money is used in this way then I agree there should be money available however most people receive the benefit and squander it on late nights out. It can't be hard to ask for a student's address and which college they attend and decide if they deserve the money. Matt Taylor, Grimsby