Many children's centres 'under threat of closure'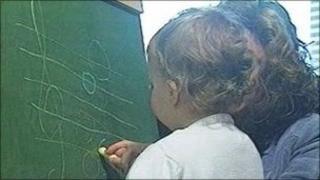 Every council in England is likely to have to close at least one Sure Start Children's Centre because of funding cuts, it is claimed.
Many more are earmarked for closure in some areas, say organisations working in the 3,500 centres.
The government wants to target the centre's parenting support services at the most deprived children.
A spokesman said there was enough money in the system to maintain the present network of children's centres.
However, in Stoke-on-Trent, seven out of 16 children's centres are threatened with closure as the council attempts to save £12.6m from its children's services budget.
Hammersmith and Fulham Council is in the process of "totally reshaping" its children's centres, cutting £3.2m from children's services budgets and reviewing services it offers at each centre.
It is also planning to merge its children's services with two neighbouring boroughs to save money. One of which, Westminster, is having to save £5.4m from its children's services budget.
In Oxfordshire, three children's centres that were to be built are not now going ahead. But the council says services from two of the children's centres will be offered elsewhere.
Norfolk County Council is planning to "reconfigure" its network of children's centres, some of its rural centres are likely to merge or work more closely together.
And Kirklees Council is looking at revised models of working for its children's centres, alongside other council services
Parents in North Devon were campaigning before Christmas to prevent cuts to the area's children's centres.
Megan Pacey, chief executive of the representative body for state-sector nurseries, Early Education, said the situation in the areas where cuts were planned was unlikely to be exceptional.
"I would be very surprised at the end of all this, if there are any local authorities in England who have not had to close at least one of their children's centres," she said.
'Excellent services'
"All local authorities in England are facing substantial cuts and the removal of the Sure Start Children's Centres funding ring fence means that services that support the youngest children and their families are being hit the hardest.
"It is worrying that many town halls across England this will become a discussion about whether to cut children's centres or other services such as those that support the elderly, disabled or those otherwise in need and their families."
She added that cost effective and creative ways could be found to preserve the "excellent" services to be found in children's centre.
Maureen Nuttall, strategic development manager for supporting families at charity Action For Children, said the prediction that at least one would close in every area was a conservative one.
She said it was clear councils would have to look at their children's centre provision because of the scale of cuts to their central government funding.
She said Action For Children was already working with local authorities on restructuring the 150 centres it runs.
"We are trying to work in a way that causes the least disruption to children and families using the services," she said.
"There are opportunities for looking at better value for money, and even co-location in public venues such as libraries.
"But it may well result in closures which mean that there's nowhere for some people to go because the one around the corner closes."
'Words unravel'
Although the Department for Education protected Sure Start funding in cash-terms, it has reduced funding for family support services overall by 11%, directing it through a new Early Intervention Grant.
In a letter to local authorities following the December local government settlement, Education Secretary Michael Gove reminded them of their duties under the Childcare Act 2006 "to consult before opening, closing or significantly changing children's centres".
A Department for Education spokesman said: "We have ensured there is enough money in the system to maintain the network of Sure Start children's centres, as well as provided new investment for health visitors."
She added: "Local authorities continue to have duties to make sure there is sufficient children's centre provision to meet local need. It is for them to decide where best to target investment.
"Support is available until March through Together for Children, to assist local authorities in making plans to keep centres open."
Shadow children's minister Sharon Hodgson said she had expected the government to stick to their word and ensure the centres did not close.
"Faced with these cuts, it's inevitable that many councils will have to make tough choices on children's centres, almost certainly meaning closures, which will deprive untold thousands of children and their families of much-valued services.
"All ministers can do is shrug their shoulders while their warm words unravel, but I hope that communities faced with these cuts will come together to make their disgust heard."
Your reaction to the story and comments on planned closures and cuts: