KPMG offers to pay tuition fees for trainees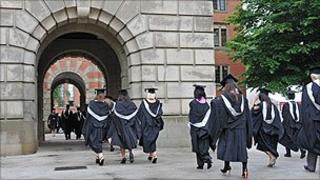 Accountancy firm KPMG is offering to pay university tuition fees for its intake of trainees from this autumn.
The company says the scheme will be a "blueprint" for private sector support for students when fees in England rise in 2012 to up to £9,000 per year.
KPMG's Oliver Tant says the scheme will protect the firm's ability to maintain a diverse intake of staff.
"Social immobility" can put the UK at a disadvantage against global competitors, says Mr Tant.
The scheme, launching with 75 places for school leavers, will pay for four years of a degree course at Durham University, plus a salary of £20,000 for a further two years of training.
'Intimidating' debt
This school-leaver entry scheme, based on exam grades, tests and interviews, could eventually take most of the 400 chartered accountant trainee places offered by the firm each year.
The level of student debt is going to become an "intimidating prospect", says Mr Tant, KPMG's UK head of audit, and the firm needs to ensure that this does not choke off its ability to recruit the most talented young people.
"We're an ideas business. We need diverse talent, we need to find the most gifted," he says - saying that diversity is about social background, ethnicity and creative ways of thinking.
"We're fighting on a global stage - and countries such as India and China don't have the same social immobility."
Mr Tant says this will be a "major new departure" for the accountancy firm, which he thinks could "establish a new trend of the private sector helping to meet the costs of tertiary education".
Universities minister David Willetts said he wanted other employers and universities to "study the concept carefully".
"It's the kind of initiative that we hope will flourish as we reform higher education," said Mr Willetts.
The scheme has also been backed by former cabinet minister Alan Milburn, who wrote a report on social mobility which warned that the professions were being increasingly dominated by young people from affluent families.
Mr Milburn said the financial support package would "extend fair access, enhance social mobility and promote opportunity" - and called for other professions and businesses to develop such programmes.