Oxford University to ask A-level students for A*s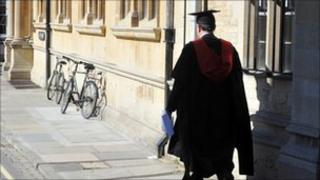 Oxford University is to start asking for A* grades at A-level for candidates wishing to study maths and science degrees from next year.
The new top grade, introduced to help universities distinguish the brightest students, was awarded for the first time last summer.
Analysis of the results showed independent school pupils were far more likely to achieve the top grade.
They took 30% of A*s awarded but make up only 14% of A-level entries.
However, Oxford University pointed out that A-level grades are not the only selection criteria.
In a statement, it said academic ability and potential are assessed through a range of measures.
Predictions
These included attained grades, the personal statement, predicted grades and academic reference, then also aptitude tests for around 85% of applicants and written work in some subjects.
"Where candidates are shortlisted, their performance at interview is also taken in to account," it added.
The university said it had waited until the new A* syllabus had bedded in before including them in conditional offers.
It added: "By 2012 Oxford believes teachers will have two years of running the syllabus and will be familiar with content and student performance, and therefore be able to predict those getting the A* grade with more confidence."
Admission tutors are to ask for at least one A* from student wishing to study one of 15 science, engineering or maths courses from 2012. Two A*s are to be required to study any of three specific courses.
Cambridge University is already asking for A*s for some courses, as is University College London and Imperial.