School funding and baccalaureate change league tables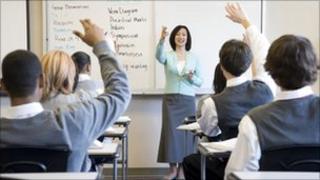 New league tables are being published for England's secondary schools, the first to include a new measure, the English Baccalaureate.
It will show how many children achieve good GCSE passes in what the government considers to be core subjects.
For the first time, the tables will also include details of how much money schools get and how they spend it, as well pupils' academic performance.
Education Secretary Michael Gove says he wants parents to "go compare".
The tables - to be published at 0930 GMT on Wednesday - are the most detailed ever released by the government - and will allow parents to rank schools on many different measures.
England is the only part of the UK which has them.
'Learning from the best'
Mr Gove wants parents to have more information about schools' performance.
"This is the most detail about the education system the public have ever had," he said.
"The aim is not to beat anyone up. We want people to learn from the best schools, to shine a light on excellence."
And that included funding, he said: "We need to make sure funds are being spent as effectively as possible and the best way to do that is to shine a light on best practice.
"We are empowering parents and the public to 'go compare' . If you can discover that the school down the road is doing twice as well while spending half the cash you will ask 'why?'."
The spending data - being released alongside the performance tables - will cover England's primary and secondary schools - but will not include academies.
This will include the amount spent per pupil and a breakdown of where the money is spent by categories such as teaching staff, ICT, supply teachers and energy.
Traditional measures
Secondary schools are still being rated on how many pupils pass five GCSEs including English and maths at "good grades" (between an A* and a C).
Schools where fewer than 35% of students make this grade are seen as failing and could be taken over or turned into academies - unless pupils are making good progress.
Last year's minimum level was 30%.
But a key change is that schools are also being measured on how many children achieve the new English Baccalaureate.
Mr Gove believes too many secondary schools have pushed teenagers towards less academic subjects and qualifications to boost their league table positions.
"Labour got its priorities wrong and said kids from poor homes could not do difficult subjects," he said.
The English Bacc measure, he says, will show how well schools are achieving across a range of core academic subjects.
Head teachers' leaders have said it is unfair to rank schools on this now, because the measure was not in place when GCSEs were taken last summer.
The Association of School and College Leaders (ASCL) has complained it is a "retrospective indicator".
It says members are in favour of children having a broad curriculum, including languages, but that some pupils will be more suited to less academic subjects.
There are critics - but also many supporters of this move.
There is also debate about subjects left off the list - particularly art, music and religious studies. Geography and history are the only humanities included.
The introduction of the English Bacc will lead to many schools changing their curriculums to improve their scores. Some schools have told BBC News they are already doing so.
This year will see the return of many independent schools to the league tables because some qualifications taken by their pupils were not previously counted in them.
Some private schools enter pupils for what are known as international GCSEs - iGCSEs - in some subjects.
Under Labour, state schools were not allowed to do so, but this has now been reversed, and iGCSEs which have been accredited by the exams regulator Ofqual are now being counted.