Languages weak in too many secondary schools - Ofsted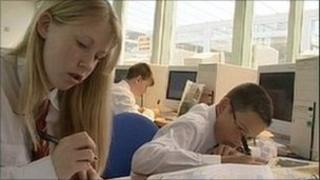 Language lessons are "weak" in too many secondary schools in England, Ofsted has said.
Pupils were not given enough chances to use the language they were learning in class, often because teachers were not prepared to do so, it added.
In some schools, reading was not taught beyond exercises in course books or previous exam papers.
But primary schools were found to be doing well in developing the teaching of modern languages.
Reporting on developments in language teaching since 2008, Ofsted drew on evidence of visits to 92 primary schools, 90 secondary schools and one special school.
Since languages were made non-statutory in 2004, the proportion of students taking language GCSEs has fallen from 61% in 2005 to 44% in 2010.
But the previous government had required all primary schools to offer languages to older pupils (Key Stage 2) by 2010.
'Enjoyment clear'
Inspectors said progress towards providing this entitlement was good and that achievement was good or outstanding in six out of 10 primary schools visited.
They also said pupils' enjoyment of language learning in primaries was "clear".
"They were usually very enthusiastic, looked forward to lessons, understood why it was important to learn another language and were developing a good awareness of other cultures," the report said.
However, Ofsted added: "Secondary schools were not always building effectively on the progress made by children at primary schools."
It recommended that secondary schools think urgently how they could best build on the advances in primary school language teaching and learning.
Although inspectors found progress was good or outstanding in more than half of the 470 lessons observed, they said there "weaknesses" in too many lessons - particularly in speaking, listening and reading.
They also highlighted the lack of opportunities for students to use the languages they were learning.
The report said: "Too often, students were not taught how to respond to everyday requests and thus routine work in the target language and opportunities to use it spontaneously were too few."
Inspectors also criticised the way reading was taught in some schools.
They said that in these schools: "Reading was not taught beyond exercises in course books or previous examination papers and teachers made insufficient use of the wealth of authentic material that is available to develop students' speaking, listening, writing, knowledge about language, language learning strategies and intercultural awareness."
Nonetheless, most secondary students were found to have positive attitudes to learning languages despite low take-up at GCSE.
But inspectors warned that GCSE teaching focused on achieving good exam results and that this did not always prepare pupils for study at a more advanced level.
English Baccalaureate
Ofsted chief inspector Christine Gilbert said young people could gain tremendously from learning an additional language.
"However, too many students are failing to reach their potential, and do not choose to undertake more advanced study beyond 16, because of the way they are taught languages in many secondary schools."
A Department for Education spokesman said it would be encouraging more secondary pupils to take modern foreign language GCSEs through its introduction of the English Baccalaureate.
This is not a new qualification in itself, but a way of measuring how many pupils in a school pass GCSEs in a science, language and history or geography, as well as English and maths.
Ministers have said they will give it prominence in school performance league tables.
The spokesman added: "Ofsted has cited good progress in the teaching of languages in primary schools which is something the government wants to promote further so that pupils start secondary education with a good grounding in a modern foreign language."
Head of the Association of School and College Leaders Brian Lightman said: "With the inclusion of languages in the English Baccalaureate it is vitally important that the government sets out detailed plans and allocates resources in order to ensure that this is possible.
"In doing so it will need to take early action to safeguard the future of university modern languages departments."
NUT general secretary Christine Blower said: "Languages have long been among the subjects most severely affected by piecemeal changes to the secondary curriculum, especially the mistaken decision to make modern foreign languages optional.
"It is vital that the efforts made by schools to develop language learning are supported by funding and resources, including ensuring that children have access to lessons taught by qualified specialist language teachers."