Michael Gove school reforms championed by ex-head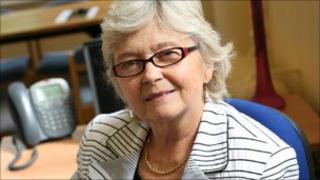 A former head teacher and chief executive of three London academies is to champion the government's school reforms.
Dr Elizabeth Sidwell, chief executive of the Haberdasher's Aske's Federation, will be England's schools commissioner.
Education Secretary Michael Gove said she would ensure local councils were tackling underperforming schools.
She will also work with academy sponsors and those wanting to set up new free schools.
Mr Gove has invited all schools to apply to become academies.
These are the state-funded but privately run schools independent of local authorities designed to tackle underachievement, began under Labour but adapted by the current government.
He also wants to see new schools, known as "free schools", set up by parents, teachers and other groups.
'Make a difference'
Mr Gove said Dr Sidwell was a brilliant former head teacher who had turned round underperforming schools.
He added: "It will be her job to chivvy local authorities to make sure they have a programme in place for turning around underperforming schools, work with academy sponsors to identify those schools that become academies and she will also work with free school promoters and others who believe that they can make a difference in those areas."
But general secretary of the Association of School and College Leaders Brian Lightman said he doubted most local councils would have the capacity to support or even identify underperforming schools.
"Local authority support for secondary schools is already patchy at best.
"With budget cuts, local authorities will not have the staff, services or resources to do this effectively.
"It is essential that systems are in place to ensure that support is available for every school as soon as it is required and not simply when a stretched local authority, which may only have a minimal if any involvement in the school, has decided there is a problem."
Independent schools
He added that research clearly showed that school to school support was the most effective means of improving underperforming schools.
Dr Sidwell began her career in education in the independent sector.
In 1991, she was promoted to the headship of Haberdashers' Aske's Hatcham College in Lewisham, south-east London. As principal, she oversaw its transformation to a City Technology College and ultimately into one of the most popular state schools in the country.
It has consistently had 12 applications for every place and its sponsors, the Haberdashers' Livery Company, run several very successful independent fee-paying schools
It is now in a federation of three academies along with Knights Academy and Crayford Academy, both of which are also in south-east London.
Dr Sidwell worked closely with the former Labour government in developing its academy programme, and has also strived to bring the state and independent education sectors together.
She has also received the CBE for her services to local and national education.