NUS: Fee waiver plan for poor students 'may be dropped'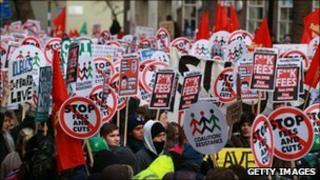 Student leaders say the government may drop proposals to pay first year tuition fees for students in England qualifying for free school meals.
Ministers expressed support for the plan ahead of the controversial vote to raise fees to up to £9,000 a year.
But NUS president, Aaron Porter, said the committee developing the proposal might now let universities choose how to support poor students.
The government said the student support plan was still under discussion.
Mr Porter, head of the National Union of Students, sits on the steering committee which is discussing how best to use the £150m National Scholarship Programme pledged by the government to help disadvantaged students as the increased fees regime is introduced.
"It was put out for consideration that it would be used for students on free school meals and it's not going to be used for students on free school meals - certainly not exclusively. But many Liberal Democrats voted for it on that basis," Mr Porter told the BBC.
Days before the vote in early December, Universities Minister David Willetts outlined a plan to waive first year tuition fees for students who had qualified for free school meals, although he said the details were still to be discussed.
He told Channel 4 News that the government was "setting out its thinking" on how the National Scholarship Scheme would work, and that the free school meals plan was "particularly important".
Mr Willetts said the government would then be looking to universities to match funding for the £150m National Scholarship Programme, which he said would enable it to help some 18,000 students.
'Come clean'
However, Mr Porter told the BBC that the government and steering group were now instead considering a plan where universities could choose from a list of access measures, such as outreach activity, bursaries, and discounts on accommodation.
Each institution would then put together a package of measures to help recruit and retain poor students, and bid for money from the National Scholarship Scheme to fund them.
He said fee waivers for free school meals students were not on the suggested list of access measures.
"We want the government to clarify this and ensure that the final proposals are not too complicated, such that they end up being a deterrent and not a support to students from the poorest backgrounds," Mr Porter said.
Critics, including the Million+ group, which represents new universities, say the £150m fund is not big enough to fund a year's tuition for all the students who previously received free school meals - 10,670 last year.
They also fear that if universities were expected to match the funding, new universities, which tend to attract more students from disadvantaged backgrounds, would be hit hard.
The Department for Business, Innovation and Skills said plans for the National Scholarship Programme were still under discussion.
"The NSP will support bright students from disadvantaged backgrounds to attend university from 2012," it said.
"Likely groups to be supported include disabled students, part-time students, mature-aged students, those who have been eligible for the pupil premium at school, or have received free school meals or student maintenance grants," it added, giving no further details.
Earlier, Mr Porter had urged the Government to "come clean on its 'free first year' offer".
'Progressive'
He raised the issues in an open letter to Liberal Democrat deputy leader Simon Hughes, who has recently been appointed as the government's adviser on university access.
He also urged Mr Hughes on several other points:
He should hold the government to its promise that the highest fees of £9,000 should only be charged in "exceptional" circumstances.
He should call for the reinstatement of AimHigher, the scheme to encourage disadvantaged young people to apply for university, which is being scrapped.
He should demand that the Educational Maintenance Allowance (EMA) - support for low-income 16-19 year-olds - be reinstated.
He should pressure the government to listens to concerns among Muslim groups that the new loans could breach Islamic rules on finance.
Mr Hughes, who like all Liberal Democrat MPs had made a pre-election pledge to oppose raising tuition fees, abstained from the vote.
In total, 21 Lib Dems voted against the plan, 27 backed it and eight abstained.
The government says its plans for university funding are progressive, and that the lowest earning 25% of graduates will be better off than they are presently.
It argues that students should not be put off going to university by the raised fees, as these are paid upfront by the government, in the form of a loan which the student than pays off after graduating, once his or her income reaches £21,000.
The Department for Education says it is replacing EMA with "more targeted" support for the students who need it most, citing research suggesting that 90% of young people receiving the allowance would continue in education without it.