University applications continue to rise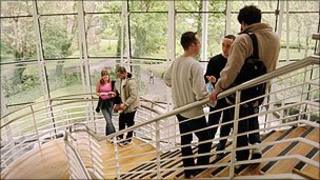 The early indications from this year's university admissions suggest there could be a record number of applicants.
So far there has been an increase of 2.5% in applicants to UK universities, compared with last year's record level, says the Ucas admissions service.
This will mean intense pressure for places in the last year before the increase in tuition fees in England.
Universities minister David Willetts said he recognised that demand for places was "likely to increase".
But the detail of these figures suggests some uncertainty - with a sharp year-on-year fall in numbers applying in December, the month when MPs backed plans to increase tuition fees to up to £9,000 per year in England.
Levelling off
These interim figures published by the Ucas admissions service show there had been 344,064 applicants by 20 December 2010, an increase of more than 8,000 at the same stage of the admissions process in the previous year.
If this pattern is continued it will mean new records will be set in the summer - both for the number of applicants and the number missing out on places.
At the end of last year's admissions process, 209,000 applicants were left without a place.
But this latest increase of 2.5% is much lower than the rate of increase being reported last year. By the end of January 2010, there had been an increase of 23% on the previous year.
This could suggest a levelling off in the increase in demand - after successive years of record application numbers.
There will be much attention paid to the impact of raising tuition fees in England - with the prospect of a rush for places in 2011, ahead of fees rising in 2012.
There are also expected to be re-applications from people who failed to get a place last year.
However there will also be questions raised about the impact of tuition fee protests and concerns about student debt - as applications in December were 17% below the previous year.
The overall 2.5% increase in applications has been driven by increases between September and November.
Gender gap
There were also mixed messages from the ages of people applying for places.
The number of 17 and 18-year-olds applying has fallen, compared with the same point in the admissions cycle last year - but there has been an increase in applicants in their twenties, thirties and forties.
There are also differences within the UK - with a rise of 3.3% in England and a drop of 15% in Scotland, where there are no tuition fees.
The gender gap is also widening, with an increasing proportion of female applicants. So far there have been 199,000 applications from women compared with 145,000 from men.
A spokesman for Ucas said there would be a clearer picture of application trends at the end of this month, after the January deadline.
Universities and Science Minister David Willetts said: "It's still very early in the admissions cycle, but yes, we recognise demand for university places next year is likely to increase.
"Going to university has always been a competitive process and not all those who apply will be accepted. Even in tough times we are repeating the extra 10,000 places we offered last year."
Sally Hunt, general secretary of the UCU lecturers' union, called for further places to be created.
"Rationing higher education, and making it more expensive, at a time when the rest of the world is investing in universities will seriously risk our standing on the world stage," she said.