Could cuts lead to no-frills schools?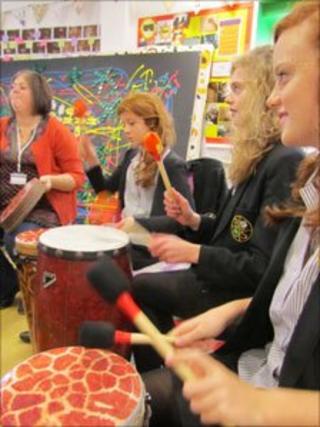 Stage combat fighting, drum workshops and performance poetry may not seem like central drivers of school achievement.
And many may consider them to be frilly, additional extras that do little more than brighten up the school day.
But teachers at the Beaconsfield School, in Buckinghamshire, say bespoke sessions with professional artists, through the Creative Partnerships scheme, help engage pupils and stop them dropping out of school.
However, the programme, which has worked with more than a million children in 5,000 of England's schools, is losing its £40m a year government funding, which has been channelled through the Arts Council.
Like a number of other non-statutory arts, music and cultural schemes in England, which have either been cut or had their budget protection removed, its future is hanging in the balance.
Concern has been expressed about cuts to programmes like the School Sports Partnership and the local music trusts that help schools teach musical instruments among others.
And there are fears that the loss of budget protection from many previously guaranteed specialist programmes, including one-to-one tuition, may mean the money spent on them last year is spent on something else this year.
This is the point, ministers say. They are simply putting head teachers in the driving seat and enabling them to make decisions about what they want to offer pupils.
Nationally, the total schools budget has been protected, despite major cuts to government spending as ministers try to reduce the national deficit.
But ministers admit that many schools will still face budget reductions.
But the backdrop of pressures on school budgets from the biggest council cuts for a generation, has prompted some to warn that a "no-frills" approach to schooling may lie ahead.
General secretary of the Nasuwt teaching union, Chris Keates, says "reducing and stripping schools down to a basic focus is potentially what will happen".
"Going on trips to museums and visits to theatres are what parents have come to know and expect," she said.
"School is about working with the whole person and making sure they have got the qualifications so they can make choices in life.
"We are now going back to a situation where only the few will get these experiences."
She adds that schools not only face cuts to their own budgets but will see a knock-on effect from local authority savings too.
"It's things like music services, special needs help and behaviour support teams that will be hit," she says.
The Commons education committee has heard that councils will probably have to charge schools for some services that they previously offered free of charge.
And NUT general secretary Christine Blower has warned that central services under threat, such as those provided by local music trusts, "are not luxuries that can be axed with no obvious effect".
The head teacher of Beaconsfield School, John Fletcher, says the work his teachers have done with professional artists has made a huge impact.
"We had a few students who had attendance rates of 20 to 25% for the whole of 2009 and by autumn 2010, they had attendance rates of 90%."
He says: "Because of the extra funding we've received, we've had numerous people coming in from the outside who we would not ordinarily have been able to afford."
'Combat fighting'
"We've had performance poets, musicians, dancers, gardeners, stand-up comics and stage combat fighters," says Katherine Belcher, who runs the Lemon Wedge arts centre in the school, where professional artists work with vulnerable students.
"The combat fighting was absolutely brilliant. The students loved it.
"Because it's potentially something in which you could get hurt - it was really all about learning how to work together and encouraging good communication.
"If you've got someone running at you with a sword, you have to be able to trust them."
She adds: "We work with small groups of vulnerable students who may be lacking in confidence, may have poor attendance records, be school refusers or be at risk of dropping out."
But Mr Fletcher is clear that to fund the scheme from the school budget will be a struggle.
A Department for Education spokeswoman said teachers know better than anyone that learning has to be inspirational and enjoyable for all children.
"The arts, music and literature are an important part of a well-rounded education and the government trusts schools to give their pupils the opportunity to learn from and enjoy Bach, Monet and Dickens both inside and outside of the classroom," she said.
She acknowledged that these were tough times, but added: "By removing ring fences from a number of grants, heads will have greater freedom over more of their funding to meet the needs of their pupils - free from central control."
'Regressing'
"We are committed to making sure that music, the arts and sport continue to play a key role in school life."
This was why it was currently reviewing music provision, and are setting up the national Olympic-style games between schools with the Department for Culture, Media and Sport, she said.
And Mr Fletcher is certainly keen to keep what creative learning he can.
He says it engages some of his most vulnerable pupils which is the idea behind the pupil premium - the government's new method of targeting extra funds at deprived children.
"The frilly bits are really important - they are the bits that make them open their eyes and try different things."
But he adds: "There are lots and lots of pressures - it's one of those things that will be going into the overall melting pot and unfortunately there are some difficult decisions that are going to have to be taken."
Paul Collard, the chief executive of the charity Creativity, Culture and Education which manages Creative Partnerships, fears that with losses of schemes like his own, and a return to a more traditional curriculum, the school experience will become increasingly narrow.
And he warns that access to the creative industries, the fastest growing sector of the UK economy, will be limited to young people from one social group - the affluent.
He says: "There is no point in regressing our education system to one in which everybody knows who the Duke of Wellington was, but a whole generation come through the education system ill-equipped to compete for employment in the 21st Century."