Student Loans Company's improvement 'disappointing'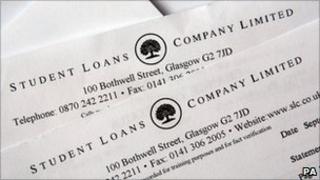 The Student Loans Company (SLC) has not improved its service enough after thousands of students were left without funds in 2009, a committee of MPs says.
The committee said the company's operations had improved, but at a "disappointing" rate.
It said a quarter of applicants this year ended up starting university term without even receiving initial funds.
The company said many of these were students who applied late and this year's service was "much better".
Margaret Hodge, chairwoman of the House of Commons public accounts committee, said a "step change" was needed in the SLC's performance "if students are to receive the efficient, effective, value-for-money service to which they are entitled".
She said the firm's service in 2009 was "completely unacceptable".
Ms Hodge said the committee was "disappointed and concerned that no official seems to have been held to proper account" for the problems.
"The company has improved its performance in 2010 but not by enough," she said.
The committee said that more than two-thirds (69%) of applications from new students were fully processed by the start of term and the company had outperformed its targets for answering calls.
But it added that a quarter (26%) of applications were not sufficiently processed for students to receive even an interim payment by the start of the first term.
The committee also said uncertainties remained over the company's ability to deliver value for money.
Documents mislaid
The SLC said it was "disappointed that the extent of the progress we have made in 2010 hasn't been recognised".
It said that 99% of students who applied with the right documentation by the relevant deadline had received their funding on time.
The 26% of applicants referred to in the report were those who had not provided the right documents, had not signed their loan declaration form or who had not had their National Insurance number verified, the SLC said.
Universities Minister David Willetts said the SLC had "significantly improved" its level of service this year, but added that "there is no room for complacency".
Problems with the student loans system were first highlighted by the BBC News website back in August 2009.
Students and their parents were asked repeatedly to send birth certificates and sensitive documents, many of which were mislaid. Disabled students and those with complicated applications faced particularly long waits.
SLC bosses insisted any delays were in line with previous years, but a Freedom of Information request revealed some 50,000 students were waiting for their loans.
They blamed problems with telephones and a faulty scanner system, but later reports into the chaos revealed management had underestimated the scale of the task ahead of them.
The SLC now says new scanners have been installed and are functioning effectively.