Toby Young's free school 'could open on charity site'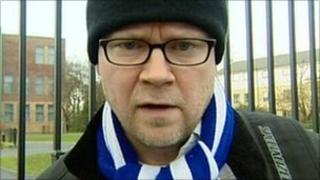 One of England's first parent-led free schools could open in a building currently used by more than 20 charities.
The BBC understands that Hammersmith and Fulham Council is considering plans to offer a site it had earmarked for sale to the author Toby Young's group.
The council insists no firm decisions have been made.
The parents' group plans to invite formal applications from next week, with pupils starting next September.
Labour councillors complain there has been no public discussion of the plan.
First wave
They say the Conservative-run council is "making a farce of democracy" because there has been no discussion of the proposal in council meetings.
The planned West London Free School was in the first wave of 16 schools given provisional approval from the government to open next September if they are ready.
Free schools have been described as independent state schools because they will be funded directly from central government, standing outside council control.
They have been fiercely opposed by Labour and teaching unions, who say they are a dangerous experiment which will fracture England's school system. The government says they will drive up standards.
Sources have told the BBC the council wants to offer Toby Young's group Pallingswick House a site that has previously been used as a school.
At the moment the property is home to 22 charities.
After Hammersmith and Fulham Council changed from Labour to Conservative-control, it was one of nine properties identified for sale in a sell-off predicted to raise £20m in total, which the council said would reduce its £130m debt.
A local campaign to save the building for use by the charities sprang up.
The council has told the BBC it is consulting on selling the property, but that no firm decision has been made on whether it will be sold "to Toby Young's group or anyone else".
Council officers are going to submit a recommendation on the sales in January, it said.
A spokeswoman said: "No decisions have been made on any of the council's buildings, including Pallingswick House. However, it is no secret that Toby Young is looking to set up a free school in west London and he has approached the council."
Applications
The council has publicly welcomed the idea of Mr Young's group setting up its school in Hammersmith and Fulham, saying it would extend choices to local families and help accommodate growing numbers of pupils.
Mr Young had first looked for a suitable site in the London Borough of Ealing, which swung to Labour in May.
Hammersmith and Fulham council is also supporting plans for two other free schools which have been provisionally approved by the government.
Toby Young told the BBC he could not comment directly on the Pallingswick House property, except to say that his group was looking at a number of sites.
He said the group hoped to allow parents to apply formally for the school from next week - without telling them where the school would be. Applications would close at the end of January.
Parents are already able to express an interest in applying, via the group's website.
As the deadline for state secondary school applications closed a few weeks ago, the group is running a separate admissions procedure alongside the general one co-ordinated by councils.
Parents who were successful but had applied to other state secondaries would get two offers on the same day and would be be able to chose, Mr Young said.
"It is strange [to apply to a school not knowing where it will be sited], but there is no risk attached. It does not jeopardise their chances of going to the school of their choice.
"We are asking parents to take a punt on our idea."
The idea, the group says, is to offer a grammar school education open to pupils of all abilities - and that all children will learn Latin.
Admissions
Mr Young said from the expressions of interest so far, the school looked to have broad appeal.
He has been stung by suggestions it will cater just for the middle classes.
"What we are offering has a broad appeal in the local area. By no means are all the parents middle-class - a cross-section of people are applying," he said.
The group has been interviewing for a head teacher and a deputy head this week.
It was waiting for the "final sign off" on its admissions policy, but priority would be given to children with special educational needs and those in care, he said.
After that, admissions would be made on the basis of "a combination of proximity to the site and random allocation".
'In the dark'
Labour councillors said there had been rumours about the site and complained they were "being kept in the dark".
Councillor Caroline Needham, shadow cabinet member for education and children, said: "We are not being kept in the loop on anything. There are cabinet meetings which last 10 minutes where we are not allowed to speak.
"It is making a farce of democracy. I was elected in May and had no idea that so many decisions were taken behind closed doors. Three councils, including ours, are merging their education departments and we found out from the Today programme."
She added: "The Tories are selling off the family silver but I don't know of the substance to this. My guess is that it [Pallingswick House] would be considered a desirable location but I would question its suitability. The rooms are very small."
She said the building had been used by charities for 25 years.
Councillor Needham says her group of Labour councillors are not opposed to academies in general.
"Our priority is for a good education for children in the borough which is developed with the community and in response to community demands," she said.
"This is a school which has migrated into the borough for political reasons."
Free schools which want to open next September were told to submit their business plans to the government before Christmas, to gain final approval, although officials say bids are being looked at on a "case-by-case" basis.
The Department for Education says after a business case has been approved, groups must carry out a statutory consultation - in which they must name the confirmed site of their school and that funding agreements between the school and the government will be signed after this.
Toby Young said he sent his outline business case to the Department for Education on Friday and that the group would hold its statutory consultation once it was in a position to identify its "permanent home".
A public event about the school is planned for two weeks' time.
Mr Young said it was possible a location for the school would be announced then.