Snow shuts nearly 7,000 schools across the UK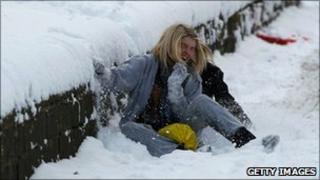 Almost a quarter of schools across the UK have been shut by heavy snow, giving pupils in some areas a further day off.
In England, about 4,000 or one in four, are closed, while in Scotland about 45% or 1,200 schools are shut - some for a third day.
South-east and north-east England are particularly badly hit with hundreds of schools closed in Sussex, Kent, Essex, the Solent, and parts of Yorkshire.
And with more freezing weather ahead, the closures are set to continue.
School closures had already affected many parts of Scotland - with half of schools closed there on Wednesday. On Thursday, with snow showers sweeping southwards, the closure rate is down to about 45% here.
But almost every region of England is now affected after another big dump of snow overnight made some roads impassable..
The fresh falls have left hundreds more schools closed in East and South Yorkshire, Lincolnshire, Nottinghamshire, Derbyshire and Staffordshire.
And with the Met Office warning of very heavy snow falls for most parts of north-east England, even more could face closures on Friday.
There are also closures in the south-west of England, with a handful of schools shut for at least part of the day in Wiltshire and Somerset.
London schools have fared better in the weather, but with rail disruption in south London and the south-east staff have faced a struggle to get into work - and many will not have made it.
However, some schools in south-east London, such as in Greenwich, have also been forced to close.
There have also been a handful of school closures in County Down in Northern Ireland and in parts of Wales - some due to frozen and burst pipes.
Head teachers are usually responsible for the decision to close a school. It is mainly based on whether pupils and staff can get to and from school buildings safely and whether there are enough staff to teach and supervise children.
They also consider whether the school site is safe.
Websites and local radio stations have been passing on news of schools that have been shut by the bad weather, but most schools have their own systems for notifying parents and staff if their doors are staying closed.
There have been calls for schools to make up lesson time lost to school closures.
Anastasia de Vaal, from think-tank Civitas, is urging schools that close to extend their terms so pupils can make up for lost time.
She told BBC News: "Internationally this is a system that happens after several consecutive days where the school is closed, and really the aim is to make sure that schools are able to do everything they can, and crucially are supported by their local authority local services to stay open."
'Flexibility'
England's Department for Education is advising heads to keep their schools open where possible.
It has reassured them that absences because of poor weather would not count against schools.
But it added heads who believe a child could have got to school but did not attend should record an unauthorised absence
Scotland's education secretary Mike Russell has written to local councils asking them to keep schools open where they can.
He also suggested staff who were unable to make their normal place of work should try and report to their nearest school.
"This flexibility could help keep schools open," he said.