Thousands of schools shut by snow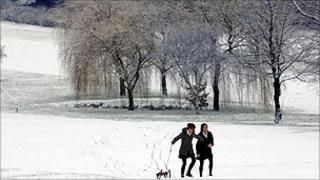 Thousands of primary and secondary schools across the UK have been shut by heavy falls of snow.
Freezing temperatures, disrupted travel and blocked roads have meant that many schools have been unable to open, giving pupils an extra day off lessons.
Among the areas where many schools have been shut are Kent, Yorkshire, Lincolnshire and Glasgow.
With forecasts for more freezing weather it is likely that closures will continue during the week.
School closures had already affected many parts of Scotland - and snowfalls across eastern England meant that many more schools did not open on Wednesday morning.
The decision not to open is usually taken by a head teacher and takes into account factors such as whether pupils and staff can get safely to and from school buildings.
Frozen
Websites and local radio stations have been passing on news of schools that have been shut by the bad weather.
More than half the schools in Scotland are closed because of snow and ice - with closures ranging from seven in Shetland to more than 200 in Glasgow.
In both Kent and Essex more than 200 schools have been unable to open.
Many schools in south-east London, such as in Greenwich, have also been forced to close by snow.
There were many schools shut by the weather in north-east England.
There have also been school closures in County Down in Northern Ireland.
In Carmarthenshire in Wales a number of schools have been shut by frozen and burst pipes.