Students march... and march... in central London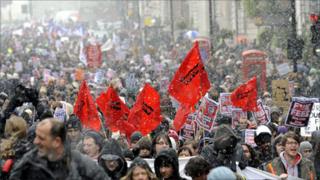 What was billed as a student fees march over less than a kilometre from Trafalgar Square to Parliament Square, turned into a high-speed yomp several miles around the heart of the capital.
After an initial headlong dash towards Whitehall, those at the front of the demonstration abruptly changed direction as a line of police blocked their way, and rushed back towards Trafalgar Square.
They led several thousands of university, college and school students and other protesters onto Pall Mall and round the edge of St James's Park at a breathless clip.
As they neared Parliament Square, a police line cut them off.
Figures, including Simon Hardy of the National Campaign Against Fees and Cuts, clad in a fluorescent orange bib, shouted "turn around and go that way!" - pointing back towards Westminster Abbey.
The crowd obeyed, briefly breaking into squeals and dancing as a sound system, wheeled on a trolley, cranked into action.
"It's a spontaneous demo - the strategy is not to get kettled," said Mr Hardy, in reference to the cordon behind which hundreds of protesters were held for hours after protests on Wednesday descended into clashes and vandalism.
Vuvuzelas
A cat and mouse game around the streets of Westminster began, with the traffic grinding to a halt as the horde flowed past, shouting "no ifs, no buts, no education cuts" and obscenities about the prime minister and his deputy.
Police watched, filmed and photographed from the sidelines, while clusters of vans with lights flashing appeared at various points along the way, blocking off some routes.
"It's a perfect strategy, it's like a roving protest - last time we were kettled for several hours, but the police don't know where we're going because we don't know where we're going," said Robin Minouge, 30, a fine arts and photography student at the University of the Arts in Camberwell.
A few youths banged on the windows of a bus as they marched from Victoria towards Hyde Park, which they passed to the cow-like honking of vuvuzelas and chants of "revolution".
But other students shouted "peaceful protest, peaceful protest", and some drivers caught up in the melee honked in support - or amusement - to cheers from the protesters, as snow began to fall.
As they reached Green Park, the protesters weaved among slow-moving traffic, briefly surrounding a stretch limousine as they passed the Ritz.
At one point police closed in to escort a Jaguar through the crowd, although the driver eventually sped off down a sidestreet.
Officer workers, Christmas shoppers and tourists looked on in bemusement as the crowd turned left at Piccadilly, up Regent Street and took over one side of Oxford Street.
Reggae blasted from the trolley-borne sound system, while a police helicopter whirred overhead and the occasional waft of marijuana mingled with the traffic fumes.
Jack Rowley, 25, an employee at a London student union, admitted he was "a bit tired", after wheeling a shopping trolley full of hot drinks, food and blankets "in case we get kettled".
'For violence'
Most of the marchers I spoke to were students or sixth form and college students, angered both by tuition fee rises and cuts to the educational maintenance allowance, which supports low-income college students.
But there were school pupils too, such as Sophie, aged 15, from Lewisham, who said she was missing triple science, "but this is more important"
"You shouldn't have to pay that much to go to university - you just shouldn't," she said.
A young man, aged 16 and also from Lewisham, refused to give his name, but said he was there "for violence".
He said he had been among those smashing windows at Millbank, following a group of anarchists as a "spur of the moment thing".
"I don't really like the police - they took my iPod and didn't give it back," he said.
Several students told me they had only recently become interested in politics and the recent fees protests had been their first taste of political activism.
Khyati Patel, an A-level student from Westminster Kingsway FE college, took a few minutes out from trying to cajole passengers on passing buses into gestures of support, to give a passionate denouncement of the Lib Dem's U-turn on tuition fees.
She said she felt "alive, really alive", and had never been politically active before.
"I think it slapped me across my face, saying you should have paid attention to the government because they're liars", she said before her friend grabbed her and they rushed off, afraid of getting left behind as the marchers ploughed onwards.
By just after 1400, however, the crowd had thinned out and students struggling to keep up finally had to yield to the traffic and wait for the green man in the shadow of St Paul's Cathedral.
The march fragmented into groups, but later protesters reconvened in Trafalgar Square.
The police formed lines across all exits, but did not completely seal off the area, allowing those who wanted to leave in small groups.
But as they sky darkened, the mood did too. There was a scuffle as a knot of policemen rushed one of the protesters, grabbing him and knocking him to the ground, and the crowd flocked angrily to the area.
"We've found our riot," said one protester, dashing from a coffee shop, even as others rushed in, shaking off the snow, asking urgently: "Where's the toilet?".
'Very, very angry'
With the snow setting in, some protesters started to shiver and drift away, a few complaining that the day's events had been confused.
But others stayed, with a small number throwing fireworks and plastic bottles at police lines and later cracking several shop windows.
Officers with riot shields moved in, ushering demonstrators from the base of Nelson's Column, where a handful of young men were burning placards and the words "no cuts" and "revolution" had been sprayed.
A layer of protesters then surrounded the policemen, some shouting: "Who's kettling who? We're kettling you!"
Angry that the police turned them away from Parliament Square earlier, and over tactics they see as heavy-handed, protesters shouted "shame on you" at the police, and "your job's next".
"I don't agree with violence or anything," said Mike Sargent, 20, an anthropology student at Brunel university, as he looked on.
"But I hate they way they try and blame it on a small minority, everyone here is angry - it's not a small group of hardcore anarchists, it's just students who are very, very angry.
Pictures by the BBC's Phil Coomes. See more on his Flickr photostream.