The students who cut class to protect education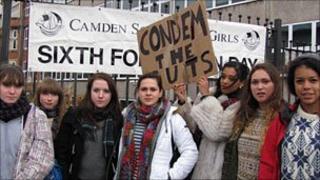 Sixteen-year-old Fatima Rahim and friends are not the kind of girls who usually cut class.
A studious and articulate group, they clearly value their education.
So much so that on this bitterly cold November morning they walked out of their schools to join others protesting about cuts to university budgets and a trebling of tuition fees.
Dressed in thermals and mittens, and armed with solicitors' numbers - in case they get caught in a police "kettle" - they set off from their north London schools to the national demonstration in London.
Fatima has excused herself from her lessons at Camden School for Girls, saying the issues are just too important for her to miss the protest.
And some of her friends have done the same from nearby sixth form consortium LaSwap.
Fatima said: "I've been to my teachers and said I am going to exercise my human right to protest and they were really supportive.
"They said they really hope that it goes OK and that I don't get kettled again."
The youngster says she was penned in by the police operation last Wednesday for several hours and was not allowed out until about 2000 GMT.
"It was absolutely terrible - we kept on asking what was going on and they just wouldn't talk to us. And my friend nearly got charged by a horse."
But she claims she is not scared and has had lots of tips and advice from the students activists at the University College London.
Her friend, 17-year-old Rosie Music, who is also on going on the march, has become something of a fees protest veteran, having spent nearly 12 hours in a police kettle last week.
She says: "I know it's a bit of a harsh thing to say but it felt like being in a concentration camp. The only way to get through it was to keep on dancing."
She adds: "It's a controversial issue because we are walking out of school to protect our education.
"But at the end of the day it's only missing school for one day to join other schools across the country to fight for something bigger."
Like all her friends, Rosie is hoping to go to university, but she says she may opt for one in France to avoid the higher fees.
Fatima had planned to be the first in her family to go to university until she heard about plans to treble university fees to a maximum of £9,000.
'Proud of me'
She also has the support of her mother, who is currently on benefits, to go on the protest.
"I come from a very poor background. My mum's very, very proud of me - if they raise tuition fees I may not be able to go to university," said Fatima.
"I know I don't have to pay for the fees up front but with all that interest I just don't know that I would ever be able to pay them back."
Camden School for Girls said it was not aware that any of its pupils had been planning to go on the demonstration.
But Fatima said teachers and schools like hers were in a very difficult position.
"They have to show authority and they are there to teach us - but at the same time they agree with us. I think they have a massive amount of trust in us."
'Fears for safety'
David Boyle, principal of Dunraven School, in Streatham, who had a group of pupils walk out and join last week's demonstration, said schools were in an "invidious position".
Many teachers agreed with the protesting pupils over university fees and cuts to the educational maintenance allowance, but did not want them cutting lessons to protest, he said.
Not only would they miss school, they could potentially be at risk, especially if protests turned violent.
Some of his pupils had been involved in attempts to protect a police van parked in Whitehall that was eventually attacked by a minority of protesters.
Mr Boyle said: "The girls who stood around the police van guarding it - they were sending a very positive message.
"But they said there was an older man doing the same thing beforehand and people just started throwing stuff at him.
"If something was to happen to a child it will be tracked back to the school and everyone will say why didn't you stop them from leaving the school?
"It looks strong until there's a really terrible incident and then all the official inquiries start."
General Secretary of the NAHT Russell Hobby agreed that schools were being put placed in a worrying situation.
He said the scale of the protests and the amount of school pupils deciding to take part in the protests had taken many head teachers by surprise.
"The risk to students' health and safety and their future in getting criminal records is a serious one to consider," he said.
But the powers that head teachers have to stop pupils from doing this are limited.
'Determined'
He pointed out that some sixth formers were allowed during the school day between lessons and there was nothing heads could to prevent them from attending marches.
Mr Boyle said following last week's protests the school had worked hard to make it clear that the youngsters could make their voices heard in less risky ways.
And all those who absented themselves from class face compulsory after-school sessions in which they will write letters to their MPs and politicians about the issues.
But he says those who are hell-bent on joining the demonstrations will be difficult to stop.
"We are not going to herd them like animals - we are not going to lock the gate and set up a police presence.
"Young people - like most people - if they are determined to do something they will still find a way around the obstacles we have put in their way."