Students refusing to end university occupations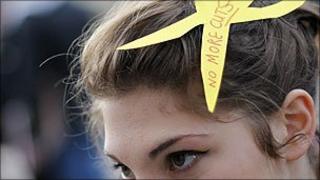 Students occupying universities are still refusing to leave as protests continue over raising tuition fees and cutting higher education budgets.
University College London, Newcastle, Edinburgh and London South Bank are among the continuing occupations.
Another day of student protest has been announced for next week with marches in London and a number of other cities.
There were clashes during a protest in London on Wednesday, as police contained a demonstration on Whitehall.
Meanwhile, the head of the higher education funding council, Sir Alan Langlands, has also warned of a "loss of reputation" over planned changes.
Oxford eviction
The coalition government is proposing to withdraw public funding for university teaching budgets for many subjects, particularly the arts and humanities - and Sir Alan highlighted how this could affect the UK's international reputation.
A headline in an Australian newspaper this week said: "No Art to Savage British Cuts."
Students continuing their occupation at University College London have been negotiating with university authorities.
A spokeswoman from the occupation told BBC 5 live that students were protesting because increasing fees would make university unaffordable for many young people.
"These are people who have been told their whole lives, study hard, work hard, you can do anything you want, you can go to university - and now this whole mentality has changed and the government is saying you can't go to university."
In Edinburgh, students still staging an occupation said that they would be meeting university authorities on Friday and were planning a march on Tuesday.
An occupation of the Bodleian Library in Oxford was ended on Thursday evening, when protesters were evicted.
A statement from the university said: "Those occupying the building were repeatedly asked to leave quietly and peacefully but chose not to do so. Attempts to negotiate an amicable resolution had failed."
Measuring the scale of walk-outs and marches this week has been difficult as local events were not co-ordinated by any national student union, but arranged using online social networking, blogs and websites.
But protesters have claimed that 130,000 people took part in demonstrations, involving school pupils and university and college students.
Tactics for the next wave of protests are being discussed on websites by a range of campaign groups and local student organisations - with planning meetings expected over the weekend.
Much of the animosity of students appears to be targeted at the Liberal Democrat party, whose MPs are accused to breaking an election to vote against raising fees.
MPs will have to vote on whether to raise fees to an upper level of £9,000 per year in England.
Universities Minister David Willetts says that young people should recognise that there will be no up-front payments and that they will only have to pay back loans when they have graduated and are earning at least £21,000 a year.