School sixth forms 'facing multi-million pound cuts'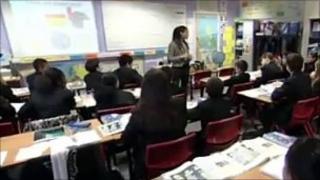 School sixth forms are to have their funding cut and head teachers fear tens of millions of pounds could be lost.
The government is to cut funding levels for England's sixth forms to bring them in to line with colleges, under plans outlined in the Education White Paper.
Head teachers' leaders say the cuts would be "disastrous".
The government protected its designated schools budget in the spending review - but that only covers children up to the age of 16.
And other cuts in general education spending will affect schools too. As a whole, spending by the Department for Education is being reduced by 10% in the four-year period covered by the spending review.
Head teachers and college leaders have been waiting for announcements about funding for the 16 to 18 age group.
Value for money
The Education White Paper says that on average a full-time student in a state school sixth form is funded at £280 more than a student in an further education college.
It says: "We will bring to an end the disparity by bringing the funding levels for school school sixth forms in line with colleges so there is equity in funding and increased value for money for the tax payer."
This change would be done gradually, the White Paper says, from 2011-12 and would be completed by 2015.
"Transitional protection" would be given to schools "facing significant changes", the paper says.
The Association of School and College Leaders (ASCL) believes tens of millions of pounds could be cut, given that there are 430,000 children in sixth forms.
It had campaigned for colleges to be funded in line with schools - but had hoped the gap would be closed by an increase in college funding rather than a cut in that of school sixth forms.
It estimates the changes will mean reductions of tens of millions of pounds over the next few years across England's sixth forms.
According to the Times Educational Supplement, the amount lost will be £120m.
Disastrous
ASCL's general secretary Brian Lightman said: "These proposals put at risk the tremendous success story that is our school sixth forms, which educate around 430,000 students every year.
"We know there are funding inequities for 16 to 18-year-olds between school sixth forms and colleges. The only fair way to address this is to bring up the unacceptably low level of college funding and not to bring school sixth form funding down.
"Cuts of this scale will have disastrous implications for schools with sixth forms at a time when post-16 education is under tremendous pressure."
He said the cuts would lead to less choice for students over courses, larger class sizes and less contact time between student and teacher.
Julian Gravatt, assistant chief executive of the Association of Colleges said: "No-one is happy to see other people's funding go down; we obviously would have preferred for ours to go up.
"But we're now moving in the right direction to ensure equity between colleges and school sixth forms, and we welcome the fact that the White Paper acknowledged that the current funding system is inherently unfair."
The government has said it cannot confirm the £120m estimate.
A spokesman for the Department for Education said: "The current funding system is unfair and has many anomalies. The government has made it clear that its longer-term aim is to bring in a simpler, more transparent and fairer funding system".
Officials say they aim to announce the details of funding for the education of 16 to 19-year-olds before Christmas. Allocations for the 2011-12 academic year will be made by the end of March 2011, they say.