Students continue university fees protest occupations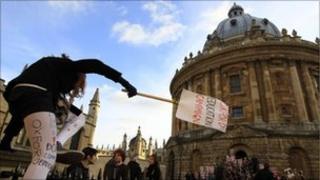 Students are still occupying buildings at several universities after a UK-wide day of protests against tuition fee rises.
Some protesters briefly occupied the constituency office of the Liberal Democrat MP Simon Hughes.
As of Thursday morning, students had taken over lecture theatres and other sites at 10 universities including Edinburgh, UCL, Cardiff and Newcastle.
Seventeen people were hurt in clashes at Wednesday's march in London.
Thirty-two arrests were made after a police van was attacked and barricades thrown as protesters tried to break through police lines as thousands of people demonstrated at Whitehall.
School pupils walked out of lessons to join university and college students on local protest marches across the UK.
The protesters are angered by the government's plans to allow universities in England to charge tuition fees of up to £9,000 a year and to make cuts of up to 80% to university teaching budgets.
Further education and sixth form students are also enraged by the scrapping of the educational maintenance allowance, which gives low-income 16-19 year olds up to £30 a week to help them continue in full time education.
Protest leaders have announced a further day of action on 30 November.
Up to 20 demonstrators were reported to have briefly occupied Simon Hughes' constituency offices in south London on Thursday.
A spokesman in his Westminster office told the BBC there was a "minor incident" but "people were ejected quickly".
Later, Mr Hughes said: "If anybody thinks that the way to persuade me or my colleagues to their point of view is to disrupt the work done by my staff or by me looking after my constituents then they are making a foolish mistake".
However, Mr Hughes has since agreed to meet some of the students on Saturday.
Bodleian take-over
Also on Thursday, Oxford University said "tens" of people were occupying the Radcliffe Camera, part of the Bodleian Library.
A man who identified himself as a 21-year-old classics student named Peter told the BBC by telephone that he was among about 70 people inside the building.
Oxford University said that some of those inside were not students.
Peter said about 45 were Oxford University students, and the rest were all studying at Oxford Brookes University, Ruskin College and other local further education colleges.
He said the protesters had wanted to keep the library open to the public, but the police and university security staff were preventing anyone else from entering.
Supporters were passing food supplies through the windows, he said, and "the books are being looked after".
The Bodleian Library stores all books published in the UK.
The students are calling on Oxford University to commit to not increasing fees for any courses, and pledge never to privatise.
"We'll stay until the university meets our demands," Peter said.
Oxford University said it had asked the students to leave.
"The University of Oxford supports freedom of expression and the right to peaceful protest," it said in a statement.
"However, this is an unlawful occupation and one that has caused considerable inconvenience and disruption," it said.
At 1620 GMT a protestor told the BBC News website the demonstrators were being "forcibly evicted".
'Deep-seated and furious'
At Edinburgh University, dozens of students stayed overnight in the Appleton Tower lecture building, while about 30 students have taken over a lecture theatre in Cardiff and 30 to 40 stayed put in Newcastle University's Fine Arts building.
Occupations also continued at University College London, the School of Oriental and African Studies, Manchester, Plymouth, Leeds and Essex.
The sit-ins follow a day of protests around the UK on Wednesday.
The Education Activist Network said it showed the "mass, deep-seated and furious opposition to the government's education cuts" and hailed walkouts, protests and marches yesterday "too numerous for the media to count".
The group accused the police of "heavy-handed brutality" in its handling of Wednesday's protest in London, criticising the police for "kettling" students as young as 14 for hours behind police lines in cold conditions.
But Metropolitan Police Commissioner Sir Paul Stephenson defended the move and said forcibly holding protesters in one place was a "valued tactic to be used wisely and on the best information and carefully".
Two of those injured were police officers.
'Not understood'
The EAN said a further day of action, billed as a "national student strike" was being planned for Tuesday 30 November.
On Wednesday, Universities Minister David Willetts said students had not seemed to have understood the proposals on fees - and that they would not have to pay the higher fees up-front.
"Young people will be provided with the funds they need to meet whatever charges universities levy," said Mr Willetts.
Under the government's plans, graduates will start to pay their fees back once their incomes reach £21,000.
Debts not paid off after 30 years will be wiped out.
The proposals apply to England, but are likely to have knock-on effects in Wales and Northern Ireland, where students currently pay similar tuition fees to those in England.
Scottish students studying at Scottish universities do not have to pay fees, but there is increasing pressure for some form of graduate contribution to help fund the sector.