Eyewitness: London students protest over fees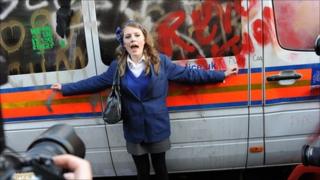 The abiding memory of the student protests of 24 November 2010 will be of violence and vandalism in Whitehall - and waves of protests around the rest of the country.
But a small group of Year 11 pupils from one south London school tried their best to make it all turn out differently.
Risking their own safety, they protected a solitary police van on Whitehall from further damage, after it had already been attacked by a small group of trouble-makers.
Masked young men, one carrying a piece of twisted metal, tried time and again to smash up the van.
Two girls did what they could to repel them - and to everyone's surprise they stopped the attacks - if only for a few minutes.
"If they smash it up, it just proves the point that teenagers are out here today for violence," said one of the girls amid the chaos, her eyes darting left and right looking for the next vandal.
"If we let the government portray us as violent then there is no way they are going to listen to us."
For the second time in a month, London has witnessed violent protests over the proposed cuts to higher and further education funding.
The plan had been for a "carnival" atmosphere - despite the plunging winter temperatures, starting with a noisy march from outside the University of London Union.
There were students banging pots, drums and cowbells. One of the chants against Nick Clegg went "shame on you for turning blue". Others were unrepeatable, but the mood was jovial rather than sinister.
Some students were there over tuition fees. A considerable number were out to denounce the scrapping of the education maintenance allowance, the support for 16 to 19-year-olds in further education.
One woman had a novel way out of the mess - her placard proposed "rich parents for all".
Police were standing well back, not interfering with peaceful protest.
American Erin Wolson, 26, studying at the School for Oriental and African Studies, said she had a warning for Brits.
"My parents began putting money into a fund for my undergraduate education when I was born," she said.
"They had to think about how much it was going to cost and what they could afford. They knew it was going to cost between $5,000 and $15,000.
"I think your system here in the UK is heading towards the US system. And the reality of that system is that my decisions of where to study were entirely influenced by the cost.
"You've got to understand the effect that fees have on academic choice in America."
Carnival to chaos
By the time the march passed London University's grand Senate House, the sound system on the back of a bicycle was booming and the chants ringing out.
But when the crowd reached Whitehall, the atmosphere turned from carnival to chaos.
The crowds surged back and forth. Some were there for high jinks. Others were palpably angry. And some were more clearly set on violence, and had little time for protest chants.
One man armed with a spray can daubed anarchist symbols on a bus shelter - although half an hour later the glass was kicked out by another masked individual.
Another group were attempting to start the engine of a digger that had been left at roadworks on Whitehall.
Time and again, men like these were encouraging each other to move from hotspot to hotspot in search of confrontation with the police.
Amid this mix of violence and lawful protest - one group of students attempted a mass hokey-cokey as a response to the violence - there were a disproportionate number of younger pupils who had bunked off school for the day.
Some were as young as 13 - although that particular pupil insisted his mother knew where he was.
There were girls in school skirts, who clearly found the events exciting. But there was also fear as protesters - mostly men - threw sticks and other missiles at police lines.
Three teenage boys from a St John's Wood school - none of them older than 17 - told me why they had turned up.
"I want to study medicine," said the first one who was in his first year of A Levels. "What the [expletive] am I supposed to do to pay the fees I'm now going to face?"
I tried to ask if fees would put him off his chosen career - but his mates interrupted.
"Look, they're rocking the police van again," said one - and off they charged, pulling scarves up over their faces.
Another 16-year-old, describing himself as "Kieran from Camden", had been reading up on Marx.
He gave every journalist who would listen a passable essay on the theory of class.
Holding the line
Amid all of this, the police were attempting to take control of Whitehall and defend government buildings from attack.
At one point there were ugly surges outside the Foreign Office.
Some masked young men carried a massive crowd barrier and attempted to launch it at the police, backed up by a rain of wooden missiles.
Then minutes later, it subsided. Police at one end of Whitehall felt sufficiently in control to stick to baseball caps rather than riot helmets, a psychological attempt to calm things down.
One coffee shop remained open throughout, clearly enjoying the business rather than fearing violence.
One masked man spray-painted "REVOLUTION" on the walls of the Foreign Office.
But as the temperature plunged, most of the younger ill-clad demonstrators would have settled for insulation.
Speaking on BBC Radio 2, deputy prime minister Nick Clegg said that he hated having made a promise on tuition fees that he could now no longer keep.
But that wasn't washing with the protesters, who happily burned pictures of him in an attempt to stay warm as they remained surrounded by the police.
Pictures by the BBC's Phil Coomes. See more on his Flickr photostream (some images contain strong language).