Too many lessons 'dull and uninspiring', Ofsted says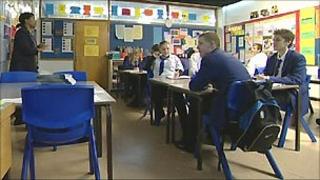 Pupils at school in England are facing too many "dull and uninspiring lessons", say Ofsted inspectors.
The quality of teaching is too "variable", says the education watchdog as it publishes its annual report.
"The weakest area and the area I'm most concerned about is teaching," says chief inspector Christine Gilbert.
The National Union of Teachers said teachers did an "amazing job" and inadequate teaching was the exception rather than the rule.
In schools, Ofsted found that teaching in 50% of secondary schools inspected in the past year and 43% of primary schools was no better than satisfactory.
"Too much teaching is still not good enough and does not deliver what we now expect of it," said Ms Gilbert.
"It is true that we expect more from schools and colleges today and more from our teachers. But we also know a lot more about how to deliver good, inspiring lessons that motivate and engage children, young people and adult learners.
"It's vital that teachers are supported to provide them as a matter of course."
She said that too many schools, even those rated good, "tolerate pockets of poor teaching".
The report also noted that teaching was often weak in schools where behaviour was poor.
'Sensationalist spin'
It comes a day before the government is due to publish a White Paper on schools reform, including a shake-up of teacher training.
The Ofsted report called for more work to disseminate best practice on teaching within and between schools.
Education Secretary Michael Gove said the report was "a ringing endorsement" of government plans to allow senior staff to observe more lessons
"Too much teacher training involves... teachers being told how to comply with government criteria... teachers need to learn from other teachers," said Mr Gove.
However, Christine Blower, general secretary of the National Union of Teachers, said government targets contributed to dull lessons.
"When you look beyond the sensationalist spin on the quality of teaching on our schools, 'inadequate teaching' is the exception rather than the rule," she said.
"If there is anything that is 'dull and uninspiring' in our schools it is a curriculum that is narrowed by the series of hoops that schools have to jump through in order to satisfy arbitrary targets which can change with alarming regularity," she said.
Russell Hobby, general secretary of the National Association of Head Teachers, said judgements about the quality of teaching and learning were still too often based on "snap-shot impressions of excerpts of lessons".
Tougher inspections
Overall across England, including schools inspected in previous years, Ofsted said 68% of schools were now rated either good or outstanding.
This year, Ofsted has toughened its inspections and has targeted them more on schools rated inadequate and adequate than in previous years.
This means this year's figures are not directly comparable to previous years.
Schools previously rated good or outstanding were given limited checks, rather than full inspections.
When these schools were included, Ofsted said that the overall profile of schools' quality remained similar to last year - with 18% classed as outstanding, 47% as good, 29% satisfactory and 6% inadequate.
However, the number of schools in special measures has risen from 193 to 300, while the number given "notice to improve" has risen from 167 to 276.
Mr Gove said this was "simply unacceptable", even given the new inspection regime.
However, Mary Bousted, general secretary of the Association of Teachers and Lecturers (ATL), said: "Once again Ofsted seems to enjoy denigrating the standard of schools in England regardless of the reality and its own findings... we should be celebrating that so many schools are doing so well."
The report also points out that schools in poorer areas still lag behind those in wealthier ones, with 71% of schools serving the most advantaged pupils classed as good or outstanding, compared to 46% serving the least advantaged.