McDonald's to launch own degree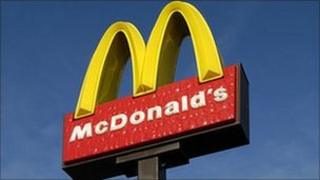 McDonald's is introducing its own degree course in business management for its restaurant bosses in the UK.
The foundation degree, which will be accredited by Manchester Metropolitan University, marks the fast-food company's latest move into education.
McDonald's apprenticeship scheme, launched 18 months ago, has been given a "good" rating by Ofsted.
Senior vice-president David Fairhurst says it challenges "snobbish" misconceptions about McDonald's staff.
"The old 'McJob' label is lazy and snobbish," he says.
'Revolving door'
The two-year foundation degree in managing business operations is a demonstration of how seriously the company takes the training of its staff, says Mr Fairhurst.
The degree is a customised version of Manchester Metropolitan University's management development programme.
It will mean that McDonald's employees will be able to get a nationally recognised qualification without leaving their jobs, he says.
It will be taught by a combination of classroom study, e-learning and training in the workplace.
"People no longer want to choose between jobs and education. They should not be parallel universes," says Mr Fairhurst.
Instead, he says there should be a model that is more like a "revolving door" - in which people can train and work at the same time.
Mr Fairhurst says the restaurant company, with 85,000 staff in the UK, wants to be a "pioneer" in educating employees.
McDonald's is set to publish a company education prospectus, which it believes is the first of its kind.
Two years ago, McDonald's was given awarding body status, allowing it to develop and award its own qualifications.
The restaurant company is also set to reveal that Ofsted will give a "good" rating to its apprenticeship programme, launched 18 months ago.
This can provide apprenticeships for 10,000 staff per year.
Such external approval is important in giving "credibility" to such in-house training, he says.
Microsoft exams
Mr Fairhurst says this isn't a philanthropic gesture, as improved skills in the workforce lead to better sales.
And he argues that the broader economy needs to provide a way for workers to keep developing skills and qualifications, particularly for those who might not have succeeded at school.
This will be a degree for managers - but McDonald's says that 90% of its restaurant managers began as crew.
The plan was backed by Richard Lambert, director-general of the Confederation of British Industry (CBI), who said it was a "great illustration of how business can play its part in helping to deliver high quality vocational training".
This is the latest example of companies developing their own qualifications.
The department store Harrods set up a degree course for its staff, in conjunction with Anglia Ruskin University.
Microsoft has its own qualifications which were awarded to about 17,500 people in the UK last year.
In the United States last week it was announced that North Carolina will be the first state in which all maintained secondary schools will use a Microsoft educational programme, which leads to Microsoft qualifications.